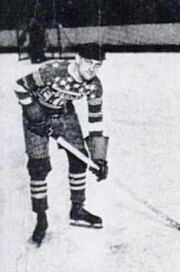 Normand Shay (Born February 3, 1899, in Huntsville, Ontario - died November 1968) - was a professional hockey defenceman - right winger who played 2 seasons in the National Hockey League for the Boston Bruins and the Toronto St. Pats.
He played intermediate hockey in Port Colborne in the 1920-21 season. For the next three years Shay played in the United States Amateur Hockey Association.
The expansion Boston Bruins signed him as a free agent in mid-season 1924-25. In the middle of the following season the Bruins traded him to the Toronto St. Pats where he finished the season.
He played in the Canadian American Hockey League for the next four seasons. During that time, he was the player coach of the Philadelphia Arrows in 1927-28 and 1928-29. He retired in 1930.
In the NHL Shay played in 53 games and scored 5 goals and 3 assists.
Ad blocker interference detected!
Wikia is a free-to-use site that makes money from advertising. We have a modified experience for viewers using ad blockers

Wikia is not accessible if you've made further modifications. Remove the custom ad blocker rule(s) and the page will load as expected.