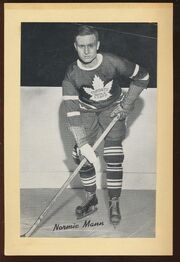 Norman Mann (born March 3, 1914) is a professional ice hockey player who played 31 games in the National Hockey League for the Toronto Maple Leafs. Born in Bradford, England, he was raised in Paris, Ontario.
He played junior for the Newmarket Redmen from 1931 to 1933, winning the Memorial Cup with them in 1933. Mann then played two seasons of senior amateur hockey in Toronto.
In 1935-36 Mann turned pro with the Syracuse Stars. He continued to play pro, mostly in the minors, until 1943. After that Mann played another three years of senior amateur. He played for the Cleveland Barons in 1946-47 and returned to the amateur ranks. retiring in 1949.
Ad blocker interference detected!
Wikia is a free-to-use site that makes money from advertising. We have a modified experience for viewers using ad blockers

Wikia is not accessible if you've made further modifications. Remove the custom ad blocker rule(s) and the page will load as expected.