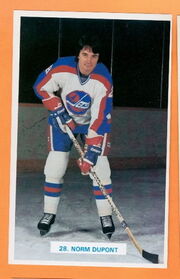 Norm Dupont (born February 5, 1957 in Montreal, Quebec, Canada) is a retired Canadian forward.
Dupont was picked 1st by the Montreal Canadiens, 18th overall, in the 1977 NHL Amateur Draft. He spent the next two seasons with the Nova Scotia Voyageurs before being promoted to the Canadiens in 1979-80. Unfortunately, he was only dressed for 35 games and spent most of those on the bench - scoring only one goal.
He was traded to the Winnipeg Jets in 1981 and spent two and a half seasons there. Another half season with the Hartford Whalers and Dupont left the NHL. Ha had played in 258 games and scored 55 goals and 85 assists.
Dupont moved to Switzerland and played 8 seasons there before retiring in 1993.
External links
Edit
Ad blocker interference detected!
Wikia is a free-to-use site that makes money from advertising. We have a modified experience for viewers using ad blockers

Wikia is not accessible if you've made further modifications. Remove the custom ad blocker rule(s) and the page will load as expected.