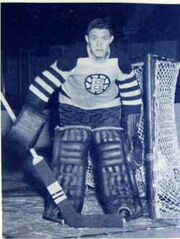 Norm Defelice (born January 19, 1933 in Schumacher, Ontario) is a retired Canadian ice hockey goaltender. He played for the Boston Bruins of the NHL.
He played junior hockey for the Waterloo Hurricanes and the St Catharines TeePees from 1951 to 1953. His first pro season was with the Sydney Millionaires in 1953-54.
Defelice embarked on a long minor pro career, most of it spent in the Eastern Hockey League (EHL). He was an EHL All-Star 7 times and won the George L. Davis, Jr. Trophy (Best Goalie Award) 6 times.
In 1956-57 he was called up for 10 games by the Boston Bruins to replace an exhausted Terry Sawchuk.
He retired in 1970.
External links
Edit
Ad blocker interference detected!
Wikia is a free-to-use site that makes money from advertising. We have a modified experience for viewers using ad blockers

Wikia is not accessible if you've made further modifications. Remove the custom ad blocker rule(s) and the page will load as expected.