Ad blocker interference detected!
Wikia is a free-to-use site that makes money from advertising. We have a modified experience for viewers using ad blockers

Wikia is not accessible if you've made further modifications. Remove the custom ad blocker rule(s) and the page will load as expected.
Noora Räty
Position
Goaltender
Catches
Left
Height
Weight
5 ft 4 in (1.63 m)
123 lb (56 kg)
WCHA Team
Minnesota Golden Gophers
Born
May 29 1989
Espoo, Finland
Pro Career
2005 – present
Noora Räty (born 29 May 1989) is a member of the 2009–10 Finland women's ice hockey national team and also plays for the University of Minnesota.
Playing career
Edit
Räty was named Finland's best women's ice hockey player in 2007 and 2008 and best goalie in 2006 and 2007. She was awarded the Rookie of the Year in 2005-06. In national league action in Finland, she has played in over 55 games, 12 of which were shutouts. Throughout her national league career, Räty has held a 1.45 goals against average and a .950 save percentage. In playoff competition alone had eight shutouts in 22 games played with a 1.24 GAA. Räty also played competititely in high school and was named the Haukilahti High School best hockey player of the year 2006 and 2008.
Minnesota Golden Gophers
Edit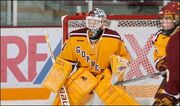 Räty enrolled as a freshman at the University of Minnesota-Twin Cities in the autumn of 2009 and joined the Golden Gopher women's hockey team in the Western Collegiate Hockey Association (WCHA). Räty's first start for the Gophers came in the team's second game of the 2009-2010 season at home against Syracuse University (a 4-1 win)[1]. Through the WCHA conference tournament (3/7/2010), Räty amassed a 17-3-4 record in 24 starts with 7 shutouts, a GAA of 1.24, and a save percentage of .951.[2]
Räty won a number of WCHA conference awards during the 2009-2010 season, being named WCHA Goaltending Champion (based on GAA), the goaltender of the All-WCHA First Team, and the goaltender of the All-WCHA Rookie Team[3]. Räty was also named the WCHA Defensive Player of the Week four times and WCHA Rookie of the Week once[4].In http://www.gophersports.com/ViewArticle.dbml?SPSID=38864&SPID=3323&DB_OEM_ID=8400&ATCLID=204875570</ref>.]
</ref>.In In March 2010, Raty became only the second freshman to be a finalist for the Patty Kazmaier Award.[5] She set a Golden Gophers club record for most assists in one season by a goaltender (3).
Team Finland
Edit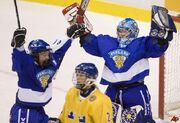 Räty has been a member of the Finnish National Team since 15 and has over 65 games in international play. At the age of 16, she participated for Team Finland at the 2006 Winter Olympic Games. She helped Finland to their second-straight bronze medal at the 2009 IIHF World Championships. During the 2008 World Championships, Räty shut out Team USA, 1-0, and had 30 saves. At the 2009 world championships with a 1.48 goals against average and a 3-1-0 record. She was named the tournament's best goalie in 2007 and 2008 and earned the most valuable player award in 2008.[6]
Olympic career
Edit
Torino 2006
Edit
| | | | |
| --- | --- | --- | --- |
| Date | Result | Save | Save % |
| February 13 | Finland 4, Switzerland 0 | 18 | 100.0% |
| February 13 | Canada 6, Finland 0 | 14 | 87.5% |
| February 13 | USA 4, Finland 0 | 7 | 63.6% |
[7]
Vancouver 2010
Edit
In the Bronze Medal game versus Sweden,at the 2010 Olympics, Raty made 16 saves for Finland. The Finnish team would win the Bronze Medal 2:33 into overtime.[8]
| | | | | | | | |
| --- | --- | --- | --- | --- | --- | --- | --- |
| Games Played | Minutes | Goals Against | Wins | Losses | Shutouts | Save % | Goals Against Average |
| 5 | 302:33 | 15 | 3 | 2 | 0 | 88.5 | 3.00 |
Awards and honors
Edit
International awards
Edit
Most Valuable Player, 2008 IIHF Women's World Hockey Championships[9]
Best Goalie, 2007 IIHF Women's World Hockey Championships
Best Goalie, 2008 IIHF Women's World Hockey Championships[9]
Directorate Award, Best Goalie, 2011 IIHF Women's World Championship[10]
WCHA honors
Edit
NCAA honors
Edit
References
Edit