This article or section is in the middle of an expansion or major revamping. You are welcome to assist in its construction by editing it as well. If this article has not been edited in several days, please remove this template.
This article was last edited by Mark Staffieri (talk| contribs) 5 years ago. (Purge)
Nikola Tomigova
200px
Position
Forward
NA Prep Team
Wyoming Seminary
Pro Career
– present
Nikola Tomigova won a gold medal with the Czech Republic at the 2011 IIHF Division II Worlds.
Playing career
Edit
Czech Republic
Edit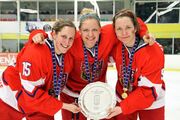 Tomigova was member of the Czech women's national team that won the gold medal at the 2011 IIHF Division II World Championships in Caen, France. Two of her teammates on the Czech Republic gold medal winning team also attended Wyoming Seminary in Pennsylvania. Alena Polenska and Lucie Povova, were both former graduates of the school. All three Wyoming Seminary graduates played on the same line, and were called the American line. [1]
References
Edit
Ad blocker interference detected!
Wikia is a free-to-use site that makes money from advertising. We have a modified experience for viewers using ad blockers

Wikia is not accessible if you've made further modifications. Remove the custom ad blocker rule(s) and the page will load as expected.