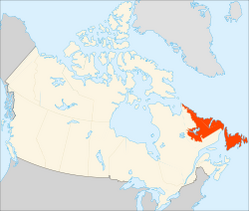 Newfoundland and Labrador is the easternmost province in Canada. Its population is about 510,000 and its capital is St. John's.
It was an independent nation until it joined Canada in 1949.
The Newfoundland Amateur Hockey Association (now Hockey Newfoundland and Labrador)did not join the Canadian Amateur Hockey Association (Hockey Canada) until 1967.  This was the first time teams from the province were eligible to compete for Canadian National championships.
Operating Leagues
Edit
Past Leagues
Edit
People of Note
Edit
Provincial Championship
Edit
Both of these championships were national championships until 1949.
National Championships
Edit
The following teams have won Canadian National Championships.
Allan Cup
Edit
The Corner Brook Royals won tournament as host and the Clarenville Caribous also hosted the tournament in 2015.
Memorial Cup
Edit
No teams participated in Memorial Cup playdowns from 1968 to 1970 which was the period between when the province would have been eligible to compete in the period between the NAHA joining the CAHA and when the junior hockey was changed to include the Major Junior level.  The only team eligible for the Memorial Cup since then would have been the St. John's Fog Devils who played in the Quebec Major Junior Hockey League for three seasons from 2005 to 2008.
Professional Teams
Edit