Ad blocker interference detected!
Wikia is a free-to-use site that makes money from advertising. We have a modified experience for viewers using ad blockers

Wikia is not accessible if you've made further modifications. Remove the custom ad blocker rule(s) and the page will load as expected.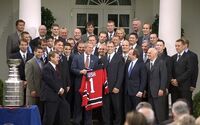 The New Jersey Devils are a professional ice hockey team based in Newark, New Jersey, United States. The team is a member of the Atlantic Division of the Eastern Conference of the National Hockey League (NHL). The Devils arrived in New Jersey in 1982 after transferring from Denver, Colorado, where they were known as the Colorado Rockies since 1976. Prior to that, the franchise entered the league as the Kansas City Scouts in 1974. The 2008-09 season is the 26th season of play, and 27th year of play in New Jersey. It is the 36th year for the Devils franchise, and including the team's time in Kansas City and Denver, the Devils have won over 1100 regular season games, 17th overall in NHL history.[1]
New Jersey played its first 11 seasons in the Patrick Division before moving to the Atlantic Division when the NHL renamed divisions in 1993. The Devils first qualified for the playoffs in 1988, eventually losing in the Conference Finals.[2] The team then made the playoffs several times after that before capturing their first Stanley Cup in the lockout-shortened 1995 season.[2] The following year, however, the Devils missed the playoffs, becoming the first team in 26 years to fail to qualify for the playoffs the season after a Stanley Cup victory.[3] Since 1997, however, the Devils have qualified for the playoffs each season, a streak surpassed only by the Detroit Red Wings. The Devils won the Stanley Cup in 2000 and 2003, and advanced to the Finals in 2001, only to lose to the Colorado Avalanche in seven games.[1] Overall, the Devils have made 19 appearances in the Stanley Cup playoffs in their 26 seasons in New Jersey, including the last 12 consecutive seasons.[2]
Season-by-season history
Edit
Devils' season-by-season record
Season
Team
Conference
Division
Regular Season[4]
Post Season[5]
Finish
GP
W
L
T
OT
Pts
GF
GA
GP
W
L
GF
GA
Result
1982–83
1982–83
Wales
Patrick
5th
80
17
49
14
—
48
230
338
Did not qualify
1983–84
1983–84
Wales
Patrick
5th
80
17
56
7
—
41
231
350
Did not qualify
1984–85
1984–85
Wales
Patrick
5th
80
22
48
10
—
54
264
346
Did not qualify
1985–86
1985–86
Wales
Patrick
6th
80
28
49
3
—
59
300
374
Did not qualify
1986–87
1986–87
Wales
Patrick
6th
80
29
45
6
—
64
293
368
Did not qualify
1987–88
1987–88
Wales
Patrick
4th
80
38
36
6
—
82
295
296
20
11
9
67
71
Won in Division Semifinals, 4–2 (Islanders)
Won in Division Finals, 4–3 (Capitals)
Lost in Conference Finals, 3–4 (Bruins)
1988–89
1988–89
Wales
Patrick
5th
80
27
41
12
—
66
281
325
Did not qualify
1989–90
1989–90
Wales
Patrick
2nd
80
37
34
9
—
83
295
288
6
2
4
18
21
Lost in Division Semifinals, 2–4 (Capitals)
1990–91
1990–91
Wales
Patrick
4th
80
32
33
15
—
79
272
264
7
3
4
21
21
Lost in Division Semifinals, 3–4 (Penguins)
1991–92
1991–92
Wales
Patrick
4th
80
38
31
11
—
87
289
259
7
3
4
25
28
Lost in Division Semifinals, 3–4 (Rangers)
1992–93
1992–93
Wales
Patrick
4th
84
40
37
7
—
87
308
299
5
4
1
15
23
Lost in Division Semifinals, 1–4 (Penguins)
1993–94
1993–94
Eastern[6]
Atlantic[6]
2nd
84
47
25
12
—
106
306
220
20
11
9
52
49
Won in Conference Quarterfinals, 4–3 (Sabres)
Won in Conference Semifinals, 4–2 (Bruins)
Lost in Conference Finals, 3–4 (Rangers)
1994–95[7]
1994–95
Eastern
Atlantic
2nd
48
22
18
8
—
52
136
121
20
16
4
67
34
Won in Conference Quarterfinals, 4–1 (Bruins)
Won in Conference Semifinals, 4–1 (Penguins)
Won in Conference Finals, 4–2 (Flyers)
Stanley Cup Champions, 4–0 (Red Wings)
1995–96
1995–96
Eastern
Atlantic
6th
82
37
33
12
—
86
215
202
Did not qualify
1996–97
1996–97
Eastern
Atlantic
1st
82
45
23
14
—
104
231
182
10
5
5
27
21
Won in Conference Quarterfinals, 4–1 (Canadiens)
Lost in Conference Semifinals, 1–4 (Rangers)
1997–98
1997–98
Eastern
Atlantic
1st
82
48
23
11
—
107
225
166
6
2
4
12
13
Lost in Conference Quarterfinals, 2–4 (Senators)
1998–99
1998–99
Eastern
Atlantic
1st
82
47
24
11
—
105
248
196
7
3
4
18
21
Lost in Conference Quarterfinals, 3–4 (Penguins)
1999–2000
1999–2000
Eastern
Atlantic
2nd
82
45
24
8
5
103
251
203
24
16
7
61
37
Won in Conference Quarterfinals, 4–0 (Panthers)
Won in Conference Semifinals, 4–2 (Maple Leafs)
Won in Conference Finals, 4–3 (Flyers)
Stanley Cup Champions, 4–2 (Stars)
2000–01
2000–01
Eastern
Atlantic
1st
82
48
19
12
3
111
295
195
25
15
10
69
52
Won in Conference Quarterfinals, 4–2 (Hurricanes)
Won in Conference Semifinals, 4–3 (Maple Leafs)
Won in Conference Finals, 4–1 (Penguins)
Lost in Finals, 3–4 (Avalanche)
2001–02
2001–02
Eastern
Atlantic
3rd
82
41
28
9
4
95
205
187
6
2
4
11
9
Lost in Conference Quarterfinals, 2–4 (Hurricanes)
2002–03
2002–03
Eastern
Atlantic
1st
82
46
20
10
6
108
216
166
24
16
8
63
38
Won in Conference Quarterfinals, 4–1 (Bruins)
Won in Conference Semifinals, 4–1 (Lightning)
Won in Conference Finals, 4–3 (Senators)
Stanley Cup Champions, 4–3 (Mighty Ducks)
2003–04
2003–04
Eastern
Atlantic
2nd
82
43
25
12
2
100
213
164
5
1
4
9
14
Lost in Conference Quarterfinals, 1–4 (Flyers)
2004–05
2004–05
Season canceled due to 2004–05 NHL lockout
2005–06
2005–06
Eastern
Atlantic
1st
82
46
27
—
9
101
242
229
9
5
4
27
21
Won in Conference Quarterfinals, 4–0 (Rangers)
Lost in Conference Semifinals, 1–4 (Hurricanes)
2006–07
2006–07
Eastern
Atlantic
1st
82
49
24
—
9
107
216
201
11
5
6
30
29
Won in Conference Quarterfinals, 4–2 (Lightning)
Lost in Conference Semifinals, 1–4 (Senators)
2007–08
2007–08
Eastern
Atlantic
2nd
82
46
29
—
7
99
206
197
5
1
4
12
19
Lost in Conference Quarterfinals, 1–4 (Rangers)
2008–09
2008–09
Eastern
Atlantic
1st
82
51
27
—
4
106
244
209
Lost in Conference Quarterfinals, 3–4 (Hurricanes)
Totals
2082
986
828
219
49
2240
6507
6345
217
121
95
604
521
—
References
Edit