Ad blocker interference detected!
Wikia is a free-to-use site that makes money from advertising. We have a modified experience for viewers using ad blockers

Wikia is not accessible if you've made further modifications. Remove the custom ad blocker rule(s) and the page will load as expected.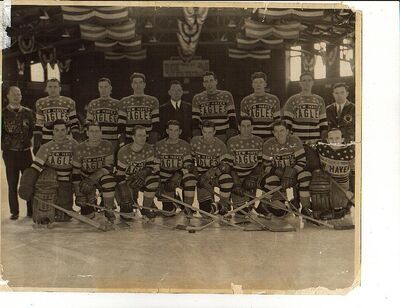 New Haven Eagles
City:
New Haven, Connecticut
League:
American Hockey League
Operated:
1926 to 1951
Franchise history
1926 to 1943,
1945 to 1946:
New Haven Eagles
1946 to 1950:
New Haven Ramblers
1950 to 1951:
New Haven Eagles
Championships
Regular Season Titles:
1: 1926–27
The New Haven Eagles were a professional ice hockey team that played in New Haven, Connecticut. The Eagles were one of five inaugural franchises in the Canadian American Hockey League, and a founding member of the American Hockey League.
The Eagles finished in first place during their inaugural season, with a record of 18–14–0, and also won the league championship in the playoffs. New Haven played in the Can-Am league from 1926 to 1936, when the league became part of the International-American Hockey League. The Eagles played in the new I-AHL from 1936 to 1940, when the league was renamed the American Hockey League. New Haven continued in the AHL until 1943. The team suspsended operations for two seasons during World War II. The Eagles were resurrected for the 1945–46 season.
From 1946 to 1950 the franchise was known as the New Haven Ramblers. The team was reverted to the Eagles name for the 1950–51 season. However, the team folded in the middle of the season after only 28 games with a record of 5–23–0.
Season-by-season results
Edit
New Haven Eagles 1945–1946
New Haven Ramblers 1946–1950
New Haven Eagles 1950–1951
Regular season
Edit
Season
Games
Won
Lost
Tied
Points
Goals
for
Goals
against
Standing
1926–27
32
18
14
0
36
73
66
1st, CAHL
1927–28
40
16
20
4
36
81
90
4th, CAHL
1928–29
40
15
15
10
40
73
68
3rd, CAHL
1929–30
39
14
19
6
34
94
101
4th, CAHL
1930–31
40
9
23
8
26
78
140
5th, CAHL
1931-32
40
19
15
6
44
113
75
3rd, CAHL
1932-33
48
16
27
5
37
100
137
4th, CAHL
1933-34
40
12
24
4
28
72
107
5th, CAHL
1934-35
48
16
23
9
41
125
145
4th, CAHL
1935-36
48
19
25
4
42
122
149
5th, CAHL
1936–37
48
14
28
6
34
107
142
4th, East
1937–38
48
13
28
7
33
93
131
3rd, East
1938–39
54
14
30
10
38
114
174
4th, East
1939–40
54
27
24
3
57
177
183
2nd, East
1940–41
56
27
21
8
62
179
153
2nd, East
1941–42
56
26
26
4
56
182
219
2nd, East
1942–43
32
9
18
5
23
85
116
4th, East
1945–46
62
14
38
10
38
199
263
4th, East
1946–47
64
23
31
10
56
199
218
3rd, East
1947–48
68
31
30
7
69
254
242
2nd, East
1948–49
68
20
40
8
48
223
286
4th, East
1949–50
70
24
36
10
58
196
250
4th, East
1950–51
28
5
23
0
10
74
154
5th, East
Season
1st round
2nd round
Finals
1926–27
—
—
L, 5-9, Springfield
1927–28
—
—
1928–29
—
—
1929–30
—
—
1930–31
—
—
1931-32
L, 6-9, Boston Cubs
—
1932-33
—
—
Out of playoffs
1933-34
—
—
Out of playoffs
1934-35
—
—
Out of playoffs
1935-36
—
—
Out of playoffs
1936–37
—
—
1937–38
—
—
1938–39
—
—
1940–41
L, 0-2, Hershey
—
—
1941–42
L, 0-2, Hershey
—
—
1942–43
Incomplete season
1945–46
Out of playoffs
1946–47
L, 1-2, Pittsburgh
—
—
1947–48
W, 2-0, Pittsburgh
L, 0-2, Buffalo
—
1948–49
Out of playoffs
1949–50
Out of playoffs
1950–51
Incomplete season