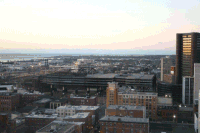 The New Haven Coliseum was a sports-entertainment arena located in downtown New Haven, Connecticut. Construction began in 1968 and was completed in 1972. The Coliseum was officially closed on September 1, 2002 by Mayor John DeStefano, Jr., and demolished by implosion on January 20, 2007.
The arena's formal name was The Coliseum - New Haven Veterans Memorial, but most locals simply referred to it as "The Coliseum." The Coliseum could hold 11,171 people at full capacity, and occupied 4.5 acres (18,000 m²) of land.
Hosted events
Edit
The Coliseum hosted the New Haven Knights of the United Hockey League, New Haven Nighthawks, New Haven Senators, and Beast of New Haven of the American Hockey League.
Ad blocker interference detected!
Wikia is a free-to-use site that makes money from advertising. We have a modified experience for viewers using ad blockers

Wikia is not accessible if you've made further modifications. Remove the custom ad blocker rule(s) and the page will load as expected.