New England Stars

City:
Tyngsborough, Massachusetts
League:
NA3HL
Division:
East
Founded:
1992
Home Arena:
Skate 3 Arena
Colors:
Navy Blue, Red, White, Silver


                   

Owner(s):
The Hockey Academy
General Manager:
Dan Fontas [1]
Head Coach:
Darryl Green
Franchise history
2008-Present:
New England Stars
The New England Stars are a Junior "A" ice hockey team. The Stars play at the Cyclones Arena located in Hudson, New Hampshire as members of the North American 3 Hockey League.
The organization started out as The Hockey Academy in Tyngsborough, Massachusetts. The organization joined the IJHL as the Stars. The Stars were originally members of the International Junior Hockey League and played in the New England Division of IJHL's Junior A Super Elite League until the 2011-2012 season. In the 2012-2013 season the organization were founding members of the Northern States Junior Hockey League (NSHL)[2] The team is owned by The Hockey Academy which also operates local youth teams at various levels,[3] which eventually become the North American 3 Eastern Hockey League in 2014 after leaving the United Hockey Union and affiliating with the North American Hockey League with the intention of USA Hockey sanctioning. The team relocated to Hudson from Tyngsborough, Massachusetts in 2014. The team joined the North American 3 Hockey League along with the rest of the NA3EHL members for the 2016-17 season.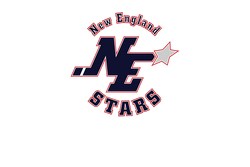 Statistics
Edit
Season records
Edit
Season
GP
W
L
T
OL
PTS
GF
GA
Regular Season
Playoffs
International Junior Hockey League
2008-09
Statistics Not Available
Super Elite Champions[4]
2009–10
45
28
11
6
—
62
158
141
4th Super Elite
Won Quarterfinal game
Lost Semifinal game
2010–11
49
34
11
4
—
72
302
150
1st Super Elite
2011–12
No Statistics Available
Northern States Hockey League
2012–13
42
12
28
0
2
26
96
171
7th of 7, NSHL[5]
Lost Quarterfinal game vs. Syracuse Stampede
2013–14
40
13
19
0
8
34
159
177
8th of 9, NSHL
Lost Round 1 series, 0-2 vs. AHI Fighting Spirit
North American 3 Eastern Hockey League
2014–15
41
25
13
—
3
53
153
115
2nd of 5, Eastern
3rd of 10, NA3EHL
Lost Div. Semifinals, 0-2 vs. Cape Cod Islanders
2015–16
44
32
9
—
3
67
184
106
3rd of 7, Eastern
4th of 13, NA3EHL
Lost Div. Semifinals, 0-2 vs. L/A Fighting Spirit
North American 3 Hockey League
Season
GP
W
L
OL
SL
PTS
GF
GA
Regular Season
Playoffs
2016–17
47
29
7
7
4
69
176
127
2nd of 7, Coastal
Won Div. Semifinals, 2-1 vs. Cape Cod Islanders
Lost Div. Finals, 1-2 vs. Long Beach Sharks
Junior ice hockey is the predominate supplier of collegiate, Major Junior, and professional ice hockey. The Stars have produced alumni currently playing in various Division I and Division III college programs.[6][7]
References
Edit
External links
Edit
Ad blocker interference detected!
Wikia is a free-to-use site that makes money from advertising. We have a modified experience for viewers using ad blockers

Wikia is not accessible if you've made further modifications. Remove the custom ad blocker rule(s) and the page will load as expected.