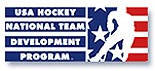 The National Team Development Program is a program held by USA Hockey to further develop a select group of youth players deemed the most talented in the United States.
Based in Ann Arbor, Michigan, where the players play in the Ann Arbor Ice Cube, the NTDP annually runs try outs to evaluate and select the best young American players. They form a team, the Junior American National Team, which competes in the North American Hockey League and plays NCAA division I college teams. It is this team that represents the United States at international junior competitions.
The program is vastly successful, having produced several excellent players through the years. It is not rare for those players to be drafted in the National Hockey League; in the 2006 NHL Entry Draft, six NTDP alumni were first-round selections, including first pick overall Erik Johnson. The next year, three NTDP alumni went in the first round, including James vanRiemsdyk, 2nd overall.
Notable Alumni:
Ad blocker interference detected!
Wikia is a free-to-use site that makes money from advertising. We have a modified experience for viewers using ad blockers

Wikia is not accessible if you've made further modifications. Remove the custom ad blocker rule(s) and the page will load as expected.