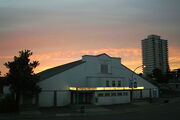 The Nanaimo Civic Arena was an indoor arena located in Nanaimo, British Columbia. It was built in 1939 and hosted the short-lived Nanaimo Islanders of the Western Hockey League and the British Columbia Hockey League's Nanaimo Clippers, the Nanaimo Timbermen (lacrosse), among many other teams. The arena closed in the spring of 2006 and was torn down in November to make way for a twin condominium tower complex to be built in 2011. The new home of the Clippers is the modern Frank Crane Arena.
Ad blocker interference detected!
Wikia is a free-to-use site that makes money from advertising. We have a modified experience for viewers using ad blockers

Wikia is not accessible if you've made further modifications. Remove the custom ad blocker rule(s) and the page will load as expected.