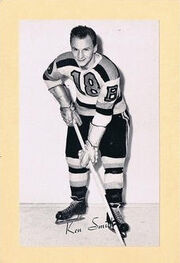 John Murray "Moe" Henderson (born September 5, 1921) is a retired Canadian professional ice hockey player who played 405 games in the National Hockey League. Born in Toronto, Ontario, he played for the Boston Bruins. He is the nephew of Lionel and Charlie Conacher.
He played junior hockey for the Toronto Young Rangers and the Toronto Marlboros from 1939 to 1942. After that he played for RCAF teams in Ontario.
He had a brief five game tryout with the Boston Bruins in 1944-45 that led to a steady job with the team for seven seasons until 1952. He was an unspectacular but effective defenceman. In 405 NHL games (all with Boston), Henderson scored 24 goals and 62 assists.
Starting in 1952-53, Henderson spent four seasons as player-coach of the Hershey Bears. He retired in 1956.
External links
Edit
Ad blocker interference detected!
Wikia is a free-to-use site that makes money from advertising. We have a modified experience for viewers using ad blockers

Wikia is not accessible if you've made further modifications. Remove the custom ad blocker rule(s) and the page will load as expected.