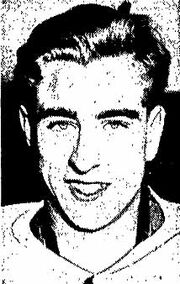 Murray Albert Dowey, sometimes referred to as Murray Downey, (born 3 January 1926) is a Canadian ice hockey player. He was a member of the RCAF Flyers who won the gold medal in ice hockey for Canada at the 1948 Winter Olympics in St. Moritz.[1]
In 2001 Dowey was honoured by the Canadian Forces when it was announced that the 1948 RCAF Flyers were selected as Canada's greatest military athletes of the 20th century.[2]
Ad blocker interference detected!
Wikia is a free-to-use site that makes money from advertising. We have a modified experience for viewers using ad blockers

Wikia is not accessible if you've made further modifications. Remove the custom ad blocker rule(s) and the page will load as expected.