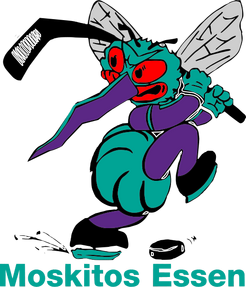 The Moskitos Essen (Essen Mosquitos) is a team in Essen, Germany. They are in the Oberliga.
Hockey history in Essen goes back to 1935. The RSC Essen, ERV Essen, and EHC Essen played in the lower German hockey leagues until 1994.
In 1994 the Moskitos became the city's team. They made it to the Deutsche Eishockey Liga (DEL) by 1999, but they were bankrupt ten years later.
The current team of this name was the former team's amatuer affiliate. It plays in the Oberliga.
Ad blocker interference detected!
Wikia is a free-to-use site that makes money from advertising. We have a modified experience for viewers using ad blockers

Wikia is not accessible if you've made further modifications. Remove the custom ad blocker rule(s) and the page will load as expected.