Ad blocker interference detected!
Wikia is a free-to-use site that makes money from advertising. We have a modified experience for viewers using ad blockers

Wikia is not accessible if you've made further modifications. Remove the custom ad blocker rule(s) and the page will load as expected.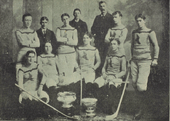 The Montreal Shamrocks were a senior team in Montreal, Quebec.
They won the Stanley Cup in 1899 and 1900.
They played in the Montreal City Hockey League from 1912 to 1924.
The Shamrocks had a team in the Junior Amateur Hockey Association in various seasons as well.
Season-by-Season Results
Edit
Year
Name
GP
W
L
T
PTS
GF
GA
PIM
Finish
Playoffs
1896
Shamrocks
8
1
7
0
2
16
30
--
5th in AHAC
--
1897
8
1
7
0
2
27
37
--
5th in AHAC
--
1898
8
3
5
0
6
25
36
--
3rd in AHAC
--
1899
8
7
1
0
14
40
21
--
1st in CAHL
Won Stanley Cup
1900
8
7
1
0
14
49
26
--
1st in CAHL
Won Stanley Cup
1901
8
4
4
0
8
30
25
--
3rd in CAHL
Lost Stanley Cup challenge
1902
8
1
7
0
2
15
62
--
5th in CAHL
--
1903
8
0
8
0
0
21
56
--
5th in CAHL
--
1904
8
1
7
0
2
32
74
--
4th in CAHL
--
1905
8
3
7
0
6
41
62
--
4th in CAHL
--
1906
10
0
10
0
0
30
90
--
Last in ECAHA
1907
10
2
8
0
4
52
120
--
Last in ECAHA
--
1908
10
5
5
0
10
53
49
--
4th in ECAHA
--
1909
12
2
10
0
4
56
103
--
4th in ECAHA
1910
12
3
8
1
25
59
100
--
6th in NHA
--
Season
Games
Won
Lost
Tied
Points
Goals
for
Goals
against
Standing
Playoffs
1912-13
10
2
8
0
4
20
40
6th
out of playoffs
1913-14
10
4
5
1
9
23
26
4th
out of playoffs
1914-15
10
1
9
0
2
-
-
6th
out of playoffs
1915-16
10
2
5
3
7
17
28
4th
out of playoffs
1916-17
10
4
6
0
8
-
-
5th
out of playoffs
1917-18
10
5
4
1
11
29
24
3rd
out of playoffs
1918-19
10
0
9
1
1
-
-
6th
out of playoffs
1919-20
7
0
7
0
10
-
-
8th
out of playoffs
1920-21
6
4
2
0
8
36
37
3rd
Lost Semi Final
1921-22
7
1
6
0
2
17
36
8th
out of playoffs
1922-23
10
3
7
0
6
17
49
4th
out of playoffs
1923-24
7
2
5
0
4
-
-
4th
out of playoffs