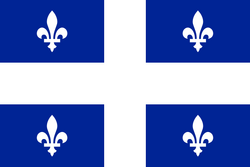 After the 1926-27 season and under pressure from the Quebec Beavers minor pro team, the Quebec Sons of Ireland folded. The Senior Group then reorganized with teams only from Montreal.
This league only had Montreal teams until 1934-35 when the Ottawa Senators were admitted. The Quebec Aces joined in 1936-37. In 1937-38 the league was renamed the Quebec Senior Hockey League which better reflected its makeup.
List of Champions
Edit
List of Seasons
Edit
Attendance
Edit
The league usually played doubleheaders and tripleheaders.
1929-30 24,800 (16 dates)
1930-31 30,752 (14)
1931-32 45,001 (15)
1932-33 29,831 (15)
1933-34 70,823 (26)
1934-35 88,280 (26)
1935-36 99,367 (34)
Ad blocker interference detected!
Wikia is a free-to-use site that makes money from advertising. We have a modified experience for viewers using ad blockers

Wikia is not accessible if you've made further modifications. Remove the custom ad blocker rule(s) and the page will load as expected.