Ad blocker interference detected!
Wikia is a free-to-use site that makes money from advertising. We have a modified experience for viewers using ad blockers

Wikia is not accessible if you've made further modifications. Remove the custom ad blocker rule(s) and the page will load as expected.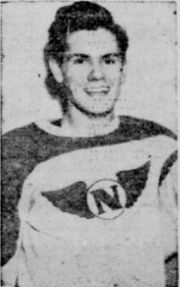 The Montreal Nationale were a senior and a junior team.
The senior team played from 1910 to 1926.
There were three different junior teams. The first played from 1920-25. The second played from 1944-52 and won the provincial title in 1947-48. The third played from 1956-58 and won the Quebec title in 1956-57.
Senior Team
Edit
Season-by-Season Records
Edit
Season
Games
Won
Lost
Tied
Points
Goals
for
Goals
against
Standing
Playoffs
1910-11
10
9
1
0
18
47
18
Tied 1st
Won Final
1914-15
10
8
2
0
16
-
-
2nd
out of playoffs
1915-16
10
1
9
0
2
17
35
6th
out of playoffs
1916-17
10
4
5
1
9
-
-
4th
out of playoffs
1918-19
10
3
7
0
6
16
38
5th
out of playoffs
1919-20
7
2
5
0
4
-
-
7th
out of playoffs
1920-21
7
6
1
0
12
32
16
1st
Lost Final
1921-22
7
5
2
0
10
26
27
3rd
Lost Final
1922-23
10
9
1
0
18
34
10
1st
Lost Quebec Semi Final
Season
Games
Won
Lost
Tied
Points
Goals
for
Goals
against
Standing
Playoffs
1918-19
10
5
5
0
10
44
39
3rd
out of playoffs
Season
Games
Won
Lost
Tied
Points
Goals
for
Goals
against
Standing
Playoffs
1923-24
11
4
6
1
9
-
-
3rd
out of playoffs
1924-25
12
3
9
0
6
-
-
4th
out of playoffs
Season
Games
Won
Lost
Tied
Points
Goals
for
Goals
against
Standing
Playoffs
1925-26
9
2
7
0
4
-
-
4th
out of playoffs
Junior Team
Edit
Season-by-Season Results
Edit
Season
Games
Won
Lost
Tied
Points
Goals
for
Goals
against
Standing
Playoffs
1920-21
6
1
4
1
3
-
-
6th
out of playoffs
1921-22
7
0
4
3
3
-
-
7th
out of playoffs
1922-23
-
-
-
-
-
-
-
-
out of playoffs
1923-24
8
2
6
0
4
-
-
6th
out of playoffs
1924-25
7
1
6
0
2
-
-
9th
out of playoffs
Season
Games
Won
Lost
Tied
Points
Goals
for
Goals
against
Standing
Playoffs
1944-45
14
0
13
1
1
24
95
5th
out of playoffs
1945-46
20
9
10
1
19
85
101
4th
Lost Semi Final
1946-47
27
16
6
5
37
167
92
2nd
Lost Final
1947-48
32
25
3
4
54
179
86
1st North
Won Final. Lost East Final
1948-49
48
28
18
2
58
-
-
1st North
Lost Semi Final
Season
Games
Won
Lost
Tied
Points
Goals
for
Goals
against
Standing
Playoffs
1949-50
35
24
9
2
50
-
-
2nd
Lost Semi Final
1950-51
45
26
19
0
52
229
191
4th
Lost Semi Final
1951-52
50
28
21
1
57
224
198
4th
Lost Semi Final
Season
Games
Won
Lost
Tied
Points
Goals
for
Goals
against
Standing
Playoffs
1956-57
36
24
10
2
50
-
-
1st East
Won Final, Won Quebec
1957-58
38
10
24
4
24
99
138
4th East
Lost Quarter Final