The Montreal Carabins women's ice hockey team represents the University of Montreal.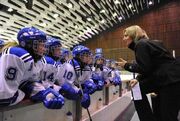 The 2009-10 season was their first competing in CIS. The Carabins finished second during the regular season and claimed the fifth position in the CIS Canadian championship. In their second season (2010-11), the team ranked in second place in the Quebecois conference behind McGill Martlets [1]. In the 2011 playoffs, the Carabins eliminated the Concordia Stingers [2]but the Carabins are in turn to eliminate in finale by McGill [3]. In their second season, they did not qualify for the CIS Canadian championships. Forwards Josianne Legault [4], Kim Deschênes [5], defenders Stéphanie Daneau [6], Janique Duval [7] and goaltender Rachel Ouellette [8] were named to their respective league All-Star teams.[9].
On October 29, 2011, Carabins skater Ariane Barker scored with 71 seconds left to give the squad a 3-2 win at McConnell Arena. Martlets goaltender Charline Labonte took the loss for the Martlets, giving her a 69-2 overall record in her CIS career.[10] It marked the Martlets first loss to a Quebec conference opponent for the first time in 108 games.[11]
Awards and honors
Edit
2009-10 QSSF First Team All-Star, Kim Deschênes, Forward
2009-10 QSSF First Team All-Star, Marie-Hélène Suc, Defense
2009-10 QSSF Second Team All-Star, Marie-Andrée Leclerc-Auger[12]
2010 QSSF Rookie of the Year, Kim Deschênes
Season by Season Record
Edit
| Team | League | GP | W | L | T | OL | GF | GA | Pts | Finish | Tournament | Nationals |
| --- | --- | --- | --- | --- | --- | --- | --- | --- | --- | --- | --- | --- |
| 2009-10 | LHUF | 20 | 13 | 6 | - | 1 | 58 | 55 | 27 | 2nd | Lost Final | 5th place |
| 2010-11 | LHUF | 20 | 8 | 8 | - | 4 | 59 | 64 | 20 | 2nd | Lost Final | N/A |
| 2011-12 | LHUF | 20 | 13 | 5 | - | 2 | 69 | 60 | 28 | 2nd | Lost Final | Silver Medal |
| 2012-13 | LHUF | 20 | 13 | 7 | - | 0 | 85 | 51 | 26 | 2nd | Won Tournament | National Champions |
| 2013-14 | LHUF | 20 | 17 | 3 | - | 0 | 93 | 37 | 34 | 2nd | Won Tournament | Silver Medal |
| 2014-15 | LHUF | 20 | 15 | 4 | - | 1 | 88 | 37 | 31 | 2nd | Lost Final | Bronze Medal |
| 2015-16 | LHUF | 20 | 15 | 3 | - | 2 | 72 | 34 | 32 | 1st | Won Tournament | National Champions |
| 2016-17 | LHUF | 20 | 11 | 8 | - | 1 | 58 | 51 | 23 | 2nd | Lost Semifinals | N/A |
| 2017-18 | LHUF | 20 | 14 | 2 | - | 4 | 60 | 34 | 32 | 1st | Lost Final | 5th place |
International
Edit
| | | |
| --- | --- | --- |
| Player | Event | Result |
| Kim Deschênes [13] | 2011 Winter Universiade | Gold |
References
Edit