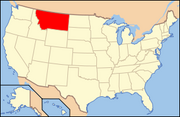 Montana is a state of the United States. It is located in the northwest part of the country with a border with the Canadian provinces of Alberta and British Columbia. Helena is the capital, and Billings is the largest city in the state.
It has population is about 970,000.
Ad blocker interference detected!
Wikia is a free-to-use site that makes money from advertising. We have a modified experience for viewers using ad blockers

Wikia is not accessible if you've made further modifications. Remove the custom ad blocker rule(s) and the page will load as expected.