The Minnesota Iron Rangers are an American Junior ice hockey team based in Hoyt Lakes, Minnesota. The Iron Rangers play in the Canadian-based Superior International Junior Hockey League.
On July 12, 2011, USA Hockey granted the Superior International Junior Hockey League an expansion team in the Iron Range Region of Northern Minnesota to begin play in September 2011.[1] The Ironheads' coach and general manager was Steve Chelios, brother of former NHL defenseman Chris Chelios.[2] Chelios was the franchise's managing partner, along with a group of investors from Vancouver, BC.[3]
On October 8, 2011, despite their first game being set back twice, finally stepped on the ice for their inaugural game. Their first game was against the Dryden Ice Dogs in Dryden, Ontario. Shamus O'Neill scored the franchise's first goal at 18:51 of the first period. The Ice Dogs won the game 5-1.
On December 10, 2011, the Ironheads defeated the Fort Frances Lakers 3-2 at home to win their first ever regular season game.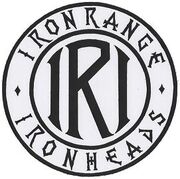 Iron Rangers (2012-Present)
Edit
On June 1st, 2012, It was announced via the Ironheads Facebook page that the team has folded, Steve Chelios had been let go, and will be restructured as the Minnesota Iron Rangers, Playing their games in Hoyt Lakes, Minnesota.
On June 19th, 2012, Chris Walby was hired as the team's Head Coach/General Manager. He would hold those positions until resigning on July 27, 2016.  He would lead the team to a 113-93-2-16 overall record during his tenure.
The team was close to another relocation just one season after moving from Cloquet.[4] Members of the community raised $30,000 to keep the team in Hoyt Lakes. The team would go on to their best season to-date falling in Game 7 of the 2014 Bill Salonen Cup Finals. Several players were honored by the SIJHL, winning post-season awards.
Season-by-season results
Edit
Please note: unless noted otherwise playoff rounds are played in "best of" series.
Season
GP
W
L
T
OTL
GF
GA
Pts
Results
Playoffs
2011-12
56
9
45
-
2
155
432
20
7th of 7
Lost Survivor Series, 0-2 (Clydesdales)
2012-13
56
26
28
-
2
161
194
54
5th of 5
Won Quarterfinals 2-1 (North Stars)
Lost Semifinals, 0-4 (Wilderness)
2013-14
56
36
14
-
6
237
168
78
3rd of 6
Won Quarterfinals, 4-0 (Wilderness)
Won Semifinals, 4-2 (North Stars)
Lost Finals, 3-4 (Lakers)
2014-15
56
30
20
-
6
246
198
66
2nd of 5
Lost Semifinals, 2-4 (Ice Dogs)
2015-16
56
21
31
2
2
178
223
46
4th of 5
Lost Survivor Series, 2-3 (Miners)
2016-17
56
7
46
0
3
144
336
17
6th of 6
Did Not Qualify
Several players have moved on to college ice hockey programs. In June 2015 the Iron Ranges announced that eight members of the previous season would be playing for NCAA college hockey programs in the Fall.[5]
References
Edit
External links
Edit
Ad blocker interference detected!
Wikia is a free-to-use site that makes money from advertising. We have a modified experience for viewers using ad blockers

Wikia is not accessible if you've made further modifications. Remove the custom ad blocker rule(s) and the page will load as expected.