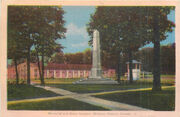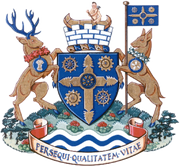 Midland is a town of Ontario, Canada, located in the Georgian Bay. 16,700 persons live there; in the summer months, it is home to over 100,000 people, who come to the more than 8,000 cottages, resort hotels, provincial and national parks in the surrounding municipalities of Penetanguishene, Tiny, and Tay.
Hockey in Midland
Edit
(Ontario Hockey Association Jr., 1901-1906, 1907-1912, 1913-1916, 1917-1927,1929-1933)
(Ontario Hockey Association Senior, 1905-1907, 1912-1914, 1914-1915) dropped to Intermediate series early in 1914-1915 season
(Ontario Hockey Association Senior A, 1950-1951) team named Flyers?
(Ontario Hockey Association Senior A, 1948-1950)
(Georgian Mid-Ontario Junior C Hockey League, 1980-present)
North Simcoe Sports & Recreation Centre
External Links
Edit
Ad blocker interference detected!
Wikia is a free-to-use site that makes money from advertising. We have a modified experience for viewers using ad blockers

Wikia is not accessible if you've made further modifications. Remove the custom ad blocker rule(s) and the page will load as expected.