Ad blocker interference detected!
Wikia is a free-to-use site that makes money from advertising. We have a modified experience for viewers using ad blockers

Wikia is not accessible if you've made further modifications. Remove the custom ad blocker rule(s) and the page will load as expected.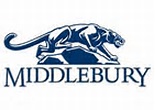 The Middlebury Panthers are a Men's Division III, and Women's Division III team in the NESCAC conference.  The men's team previously played in the ECAC East conference and its predecessor leagues until the NESCAC was founded in 1999.
The teams play out of the Chip Kenyon '85 Arena located on the school's campus in Middlebury, Vermont.
Men's program
Edit
The men's program dates back to the 1922-23 season.  As the program evolved the school won six consecutive Vermont State Championships from 1927 to 1932.  The team disbanded for three seasons during World War II (1943-1946).  The team won four more consecutive state championships from 1948 to 1951.  The team won ECAC championships in 1979 and 1991 and NESCAC championships in 2000, 2001, 2002, 2004, 2005, 2006, 2007, and 2010.  The team won NCAA championships in 1995, 1996, 1997, 1998, 1999, 2004, and 2006.
Women's program
Edit
The women's program dates back to the 1981-82 season.  The team won:
ECAC championships in 1996, 1997, 1998, 1999, 2000, 2001
NESCAC championships in 2003, 2005, 2006, 2009, 2011, 2012
the only two AWCHA championships in 2000 and 2001
NCAA championships in 2004, 2005, and 2006. 
As of the 2015 tournament the team has appeared in every NCAA Division III Women's Tournament from its first edition in 2002. The team reached the frozen four in 2009 and 2012; and played in the 2007 and 2013 national championship games.