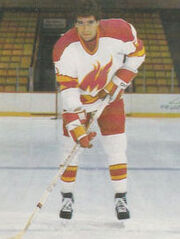 Mickey Stephen Volcan (born March 3, 1962 in Edmonton, Alberta) is a retired Canadian ice hockey defenceman who played 162 National Hockey League games for the Hartford Whalers and Calgary Flames from 1980 until 1984. He recorded eight goals and 33 assists in his career. Volcan was a third round draft pick, 50th overall by the Whalers in the 1980 NHL Entry Draft. He was the youngest player in the NHL in the 1980–81 season. Volcan retired following the 1990–91 season.
On January 15, 1983 Volcan (as a member of the Hartford Whalers) and Garry Howatt (as a member of the New Jersey Devils) become the only active players to officiate an NHL game when a snowstorm prevented a referee and a linesman from reaching the Hartford Civic Center for a game between the Whalers and Devils.
References
Edit
Ad blocker interference detected!
Wikia is a free-to-use site that makes money from advertising. We have a modified experience for viewers using ad blockers

Wikia is not accessible if you've made further modifications. Remove the custom ad blocker rule(s) and the page will load as expected.