Metropolitan Junior Hockey League
Talk

0
Metropolitan Junior Hockey League



Metropolitan Junior Hockey League

Sport
Ice hockey
Founded
1966
Commissioner
Glenn Hefferan
No. of teams
16 (for 2015-16)
Country(ies)
 United States
Official website
MJHL
The Metropolitan Junior Hockey League (MJHL) is an American Tier III Junior B ice hockey league with 23 teams (as of 2014/1 season) throughout the eastern seaboard of the United States. The MJHL is part of the Atlantic Metropolitan Hockey League organization. It's "big sister" the AJHL is a Tier III, Junior league.
The league does place a number of players into NCAA Colleges, with most going to Division III, and some to Division I[1].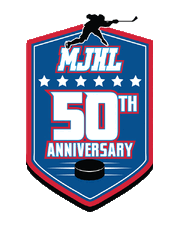 Current Teams
Edit
2015-16 Divisions to be determined.
Dowd Division
Team
Centre
Francis Division
Team
Centre
Marciconda Division
Team
Centre
Mullen Division
Team
Centre
Brewster Bulldogs
Brewster, New York
Central Penn Panthers
Lancaster, Pennsylvania
Connecticut Nighthawks
Simsbury, Connecticut
Hartford Jr. Wolfpack
Cromwell, Connecticut
Jersey Wildcats
Wharton, New Jersey
Long Island Royals
Syosset, New York
Metro Fighting Moose
Brooklyn, New York
New Jersey Colonials
Somerset, New Jersey
New Jersey Junior Titans
Farmingdale, New Jersey
New Jersey Renegades
Flemington, New Jersey
New Jersey Rockets
Berkeley Heights, New Jersey
New York Apple Core
Brewster, New York
North Jersey Avalanche
Hackensack, New Jersey
Philadelphia Junior Flyers
West Chester, Pennsylvania
Philadelphia Little Flyers
Aston, Pennsylvania
Philadelphia Revolution
Elkins Park, Pennsylvania
Former Teams
Edit
most of these teams played in the league between 2003 and 2014
Atlanta Knights
Bethlehem Blast (become New Jersey Renegades  when sold)
Binghamton Junior Senators
Charleston Wolverines
Connecticut Clippers (merge with Connecticut Wolves to form Hartford Jr. Wolfpack)
Connecticut Junior Oilers
Connecticut Junior Wolfpack (reverted to Hartford Junior Wolfpack)
Connecticut Wolves (merge with Connecticut Clippers to form Hartford Jr. Wolfpack)
Cranston Reds
East Coast Eagles
Florida (Estero) Junior Blades
Florida Eels
Frederick Freeze
Hampton Roads Junior Whalers
Hudson Valley Eagles
Jacksonville Ice Dogs
Laconia Leafs
MassConn (East Longmeadow, MA) Braves
New York Junior Islanders, exited 1999
North Jersey Avalanche
Palm Beach Hawks
Palm Beach Predators renamed Hawks)
Portland Junior Pirates
Richmond Generals
Space Coast Hurricanes
Suffolk PAL (also known as Silver Shields during part of time in league)
Tampa Bay Bolts (renamed Juniors when purchased by and merged with Jacksonville Ice Dogs)
Tampa Bay Juniors
Team Carolina
Troy Eagles
Valley Forge Minutemen
Washington Junior Capitals
Washington Junior Nationals
Washington Little Capitals
Wilkes-Barre/Scranton Knights
External links
Edit
Official Website- [1]
References
Edit
↑ http://www.atlantichockey.org/mjhl_sub.htm?content=mjhl_commitments MJHL 2009 College Commitments