Melodie Daoust
Position
Forward
Shoots
Right
Height
Weight
5 ft 5 in (1.65 m)
150 lb (68 kg)
Collegial AA
CWHL
CIS Team
College Edouard-Montpetit
Montreal Stars
McGill Martlets
Born
January 7 1992
Valleyfield, QC
,
Pro Career
2007 – present
Medal record
Women's ice hockey
Competitor for  Canada
IIHF U18 Womens Worlds
Silver
2009 Germany
2009 Tournament
Gold
2010 United States
2010 Tournament
Melodie Daoust (born January 7, 1992) has competed for Hockey Canada in numerous international tournaments.
Playing career
Edit
In 2008-09, she played with the Lac St. Louis Selects, and helped them accumulate a 62-0-2 record. Daoust was a Montreal Canadiens scholarship holder in 2010 from the Quebec Foundation for Athletic Excellence. With the Collège Édouard-Montpetit Lynx, she helped lead them to a Quebec collegiate AA championship in 2009-10. In addition, she won the league scoring title with 24 goals, 31 assists for 55 total points. She accomplished this in only 13 games played. In participating with the Canada women's national under-18 ice hockey team, Daoust registered 10 goals and 23 points in 13 games. At the 2010 IIHF world U-18 championships, she scored a goal and adding an assist in the gold medal game. The following day, she flew back to Montreal to help the Lynx capture the collegiate championship. She scored twice and added an assist in the championship game, including the game-winner in a 6-5 win versus Collège Laflèche. She had helped the Lynx accumulate a won-loss record of 44 wins, compared to 3 losses.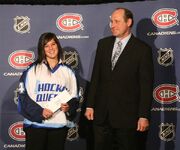 She was called up as an emergency fill-in with the Montreal Stars, and scored three points[1] in her CWHL debut on January 8 (versus the Burlington Barracudas).[2]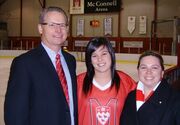 On February 10, 2011, Daoust signed a letter of intent to play for the McGill Martlets women's ice hockey program. [3] She refused offers from numerous Canadian and American universities, including Cornell, Dartmouth and a full scholarship from Boston University. Daoust was only one of five female student-athletes committed to McGill University in the fall of 2011 that were athletic scholarship recipients (announced by the Quebec Foundation for Athletic Excellence).[4]
Hockey Canada
Edit
She was one of four players from Quebec, (along with Laurie Kingsbury, Roxanne Douville, Marie-Philip Poulin), that represented Canada at the 2009 IIHF World Women's Under-18 Championship in Germany.[5] Daoust was part of Canada's National Women's Under-18 Team to a gold medal at the 2010 IIHF World Women's Under-18 Championship in Chicago. As a member of the gold medal winning squad, a hockey card of her was featured in the Upper Deck 2010 World of Sports card series.[6] In addition, she participated in the Canada Celebrates Event on June 30 in Edmonton, Alberta which recognized the Canadian Olympic and World hockey champions from the 2009-10 season .[7]
Career stats
Edit
Hockey Canada
Edit
| | | | | | |
| --- | --- | --- | --- | --- | --- |
| Event | GP | G | A | PTS | PIM |
| 2007 National U18 | 5 | 2 | 0 | 2 | 2 |
| 2008 National U18 | 5 | 6 | 4 | 10 | 2 |
| 2009 National U18 | 3 | 3 | 1 | 4 | 2 |
[8]
Awards and honors
Edit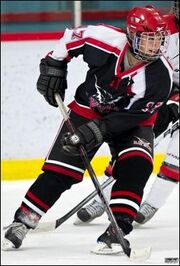 2009-10 Collègial AA scoring champion
CIS Rookie of the Year (2011-12)[9]
All-Canadian Second Team (2011-12)
CIS All-Rookie Team (2011-12)
References
Edit
Ad blocker interference detected!
Wikia is a free-to-use site that makes money from advertising. We have a modified experience for viewers using ad blockers

Wikia is not accessible if you've made further modifications. Remove the custom ad blocker rule(s) and the page will load as expected.