Mehtimäki Ice Stadium
Ärjyluola
Location
Kuntopolku 6
Opened
1982
Owner
City of Joensuu
Architect
Georgios Fasoulas
Tenants
Jokipojat JoensuuJ (1982-present)

Capacity
4.800 (2500 seated), 4 luxury boxes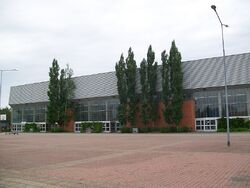 Mehtimäki Ice Stadium (Joensuun jäähalli) is an indoor arena located in Joensuu, Finland. It is the home arena for Jokipojat Joensuu of the Mestis and Joensuun Kataja's figure skaters.
Ad blocker interference detected!
Wikia is a free-to-use site that makes money from advertising. We have a modified experience for viewers using ad blockers

Wikia is not accessible if you've made further modifications. Remove the custom ad blocker rule(s) and the page will load as expected.