Ad blocker interference detected!
Wikia is a free-to-use site that makes money from advertising. We have a modified experience for viewers using ad blockers

Wikia is not accessible if you've made further modifications. Remove the custom ad blocker rule(s) and the page will load as expected.
Meghan Dufault
Position
Forward
Catches
Right
Height
Weight
5 ft 2 in (1.57 m)

Midget AAA
NCAA Team
Pursuit of Excellence
North Dakota
Born
April 17 1994
Winnipeg, Manitoba
,
Pro Career
2009 – present
Medal record
Women's ice hockey
Competitor for  Canada
IIHF Under 18 worlds
Silver
2011 Sweden
Tournament
Nations Cup
Gold
2015 Germany
2015 Tournament
Meghan Dufault (born April 17, 1994) is a women's ice hockey player from Manitoba. She has represented Canada in numerous international tournaments, and has represented Manitoba in national tournaments.
Playing career
Edit
She attended the Pursuit of Excellence Hockey Academy[1] In March 2010, Dufault was one of eight female players from Manitoba that attended David Roy's Pursuit of Excellence hockey academy in Kelowna, B.C. She was part of a female midget AAA team that won the Challenge Cup tournament in Washington, D.C. by defeating Little Caesar's from Detroit 6-4 in the championship game of the 26-team tournament. The team's overall record in 2009-10 was 52-3, including a 7-1 loss to Sweden's Olympic team last month and three major tournament wins.[2]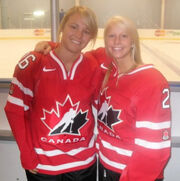 In 2008, she competed for Team Manitoba at the Under 18 nationals with Team Manitoba and enjoyed a third place finish. At the 2009 Under 18 Nationals, she competed for Team Manitoba and ended with a fourth place finish. [3] In 2011, Dufault was named to the Under 18 Manitoba team for the third straight year. [4] She also participated at the 2011 Canada Winter Games (women's) tournament as Manitoba finished in fifth place. [5] She finished the tournament with five goals and three assists.[6]
Hockey Canada
Edit
In the first game of the 2011 IIHF Under 18 championships, Dufault scored a goal and logged an assist.[7] Dufault tied for the lead in scoring for Canada at the 2011 IIHF Under 18 Worlds.[8]
She was a member of Canada's National Women's Development Team that won a gold medal at the 2015 Nations Cup (formerly known as the Meco Cup).[9]
On November 18, 2011, it was announced that Dufault committed to the North Dakota Fighting Sioux women's ice hockey program.[10] She would earn one of the assists on the game winning goal scored by Susanna Tapani which snapped the Minnesota Golden Gophers 62-game win sdtreak on November 17, 2013.[11]
Career stats
Edit
| | | | | | | | |
| --- | --- | --- | --- | --- | --- | --- | --- |
| Year | Event | GP | G | A | Pts | +/- | PIM |
| 2008 | National Under 18 | 5 | 0 | 5 | 5 | 0 | 0 |
| 2009 | National Under 18 | 5 | 4 | 4 | 8 | 0 | 6 |
| 2011 | IIHF Under 18 Worlds | 5 | 2 | 6 | 8 | +6 | 2 |
| 2011 | U18 Exhibition vs. USA | 3 | 3 | 1 | 4[12][13][14] | | 0 |
[15]
Awards and honors
Edit
2009 National Women's U18 Championships MVP
References
Edit