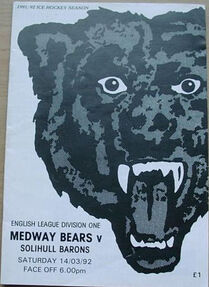 The Medway Bears were a professional team in Gillingham, England. They played in the British Hockey League's Division Two in 1985-86, the same league's Division One from 1986 to 1991, the English League Division One in 1991-92, the British Hockey League Division One again from 1992 to 1996, and finally the British National League in 1996-97.
1985-1992 Kevin MacNaught
1992-1994 Sean Clement
1994-1997 Brian Smith
1998-1999 Steve Hodge
2001-Present Kevin Parrish
Bear who played in the NHLEdit
Robin Bartel played for the Bears after playing in 41 NHL games, mostly with the Vancouver Canucks.
Ad blocker interference detected!
Wikia is a free-to-use site that makes money from advertising. We have a modified experience for viewers using ad blockers

Wikia is not accessible if you've made further modifications. Remove the custom ad blocker rule(s) and the page will load as expected.