Ad blocker interference detected!
Wikia is a free-to-use site that makes money from advertising. We have a modified experience for viewers using ad blockers

Wikia is not accessible if you've made further modifications. Remove the custom ad blocker rule(s) and the page will load as expected.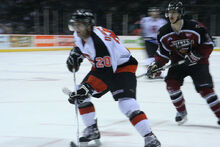 The Medicine Hat Tigers are a junior ice hockey team in the Western Hockey League (WHL) who play out of Medicine Hat, Alberta, Canada. Established in 1970, the team has won two national Memorial Cups, five WHL League Championships and seven Division Titles. The Tigers play at the Medicine Hat Arena. They have a sell-out streak at The Arena dating back 197 games (as of May 15, 2007). This streak ended on March 28, 2008 when a less than capacity crowd attended game five of the first playoff round.
The Tigers lost the 2007 Memorial Cup 3–1 on May 27, 2007, against the Vancouver Giants, which was hosted by Vancouver at the Pacific Coliseum. This was after beating the Giants in double overtime in Game 7 of the WHL Finals two weeks earlier.
Season-by-season record
Edit
Note: GP = Games played, W = Wins, L = Losses, T = Ties, OTL = Overtime losses, Pts = Points, GF = Goals for, GA = Goals against
Season
GP
W
L
T
OTL
GF
GA
Points
Finish
Playoffs
1970–71
66
22
43
1
-
271
351
45
5th West
Out of playoffs
1971–72
68
35
30
3
-
351
312
73
4th West
Lost quarter-final
1972–73
68
39
20
9
-
348
254
87
2nd West
Won championship
1973–74
68
29
31
8
-
305
314
66
3rd West
Lost quarter-final
1974–75
70
40
22
8
-
380
291
88
2nd West
Lost quarter-final
1975–76
72
38
24
10
-
379
306
86
3rd West
Lost quarter-final
1976–77
72
32
28
12
-
330
304
76
1st Central
Lost preliminary round
1977–78
72
22
41
9
-
293
365
53
3rd Central
Lost Central Division final
1978–79
72
15
50
7
-
270
479
37
4th Central
Out of playoffs
1979–80
72
37
30
5
-
344
315
79
3rd East
Lost East Division final
1980–81
72
40
29
3
-
358
302
83
3rd East
Lost East Division quarter-final
1981–82
72
25
46
1
-
308
446
51
7th East
Out of playoffs
1982–83
72
37
34
1
-
345
338
75
6th East
Lost East Division quarter-final
1983–84
72
45
26
1
-
404
288
91
2nd East
Lost East Division final
1984–85
72
53
17
2
-
355
224
108
2nd East
Lost East Division final
1985–86
72
54
17
1
-
384
245
109
1st East
Lost final
1986–87
72
48
19
5
-
383
264
101
1st East
Won championship and Memorial Cup
1987–88
72
44
22
6
-
353
261
94
2nd East
Won championship and Memorial Cup
1988–89
72
41
27
4
-
359
326
86
3rd East
Lost East Division quarter-final
1989–90
72
32
38
2
-
298
331
66
5th East
Lost East Division quarter-final
1990–91
72
40
27
5
-
366
296
85
2nd East
Lost East Division final
1991–92
72
48
24
0
-
336
264
96
2nd East
Lost East Division quarter-final
1992–93
72
29
38
5
-
285
343
63
7th East
Lost East Division semi-final
1993–94
72
33
33
6
-
263
264
72
5th East
Lost East Division quarter-final
1994–95
72
38
32
2
-
244
229
78
5th East
Lost East Division quarter-final
1995–96
72
30
37
5
-
243
288
65
3rd Central
Lost Eastern Conference quarter-final
1996–97
72
39
32
1
-
270
278
79
3rd Central
Lost Eastern Conference quarter-final
1997–98
72
16
50
6
-
188
340
38
5th Central
Out of playoffs
1998–99
72
15
56
1
-
185
323
31
5th Central
Out of playoffs
1999–00
72
21
39
6
6
222
295
54
5th Central
Out of playoffs
2000–01
72
24
40
5
3
271
316
56
5th Central
Out of playoffs
2001–02
72
30
36
4
2
277
316
66
5th Central
Out of playoffs
2002–03
72
29
34
2
7
278
314
67
3rd Central
Lost Eastern Conference semi-final
2003–04
72
40
20
9
3
277
216
92
1st Central
Won championship
2004–05
72
45
21
4
2
234
143
96
1st Central
Lost Eastern Conference semi-final
Season
GP
W
L
OTL
SOL
GF
GA
Points
Finish
Playoffs
2005–06
72
47
16
1
8
257
171
103
1st Central
Lost Eastern Conference final
2006–07
72
52
17
3
0
264
175
107
1st Central
Won championship
2007–08
72
43
22
5
2
234
191
93
3rd Central
Lost Eastern Conference quarter-final
2008–09
72
36
29
4
3
249
242
79
2nd Central
Lost Eastern Conference semi-final
2009–10
72
41
23
3
5
276
232
90
3rd Central
Lost Eastern Conference semi-final
2011–12
72
42
24
2
4
255
209
90
3rd Central
Got to Eastern Conference semi-final
2012–13
72
36
33
2
1
243
244
75
4th Central
Got to Eastern Conference semi-final
2013–14
72
44
24
3
1
260
196
92
3rd Central
lost in eastern conference final
2014–15
72
45
23
2
2
268
213
94
2nd Central
Lost in Eastern Conference semi-final
2015–16
72
30
37
3
2
223
287
65
5th Central
Lost tiebreaker game vs Edmonton
Out of playoffs
Team records
Edit
Team records for a single season
Statistic
Total
Season
Most points
109
1985–86
Most wins
54
1985–86
Most goals for
404
1983–84
Least goals for
185
1998–99
Least goals against
143
2004–05
Most goals against
479
1978–79
Individual player records for a single season
Statistic
Player
Total
Season
Most goals
Don Murdoch
88
1975–76
Most assists
Greg Carroll
111
1975–76
Most points
Greg Carroll
171
1975–76
Most points, rookie
Don Murdoch
141
1974–75
Most points, defenceman
Cliff Lane
82
1975–76
Best GAA (goalie)
Matt Keetley
1.66
2004–05
Goalies = minimum 1500 minutes played
NHL alumni
Edit
References
Edit
External links
Edit