Ad blocker interference detected!
Wikia is a free-to-use site that makes money from advertising. We have a modified experience for viewers using ad blockers

Wikia is not accessible if you've made further modifications. Remove the custom ad blocker rule(s) and the page will load as expected.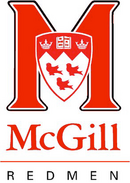 "Redmen" is the name of the male sports teams of McGill University, which is located in Montreal, Quebec. The Redmen are members of the Reseau du sport etudiant du Quebec (RSEQ) and Canadian Interuniversity Sport (CIS). The RSEQ does not operate a hockey league. The Redmen and other RSEQ teams play in the Ontario University Athletics (OUA) hockey league.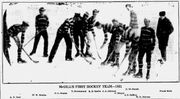 The team was originally organized in 1881 and is one of the oldest hockey teams in the world, In fact McGill students wrote the first official rules for the game.
The first Canadian intercollegiate league was organized in 1903 with Queens University, University of Toronto, and McGill. This league is a direct ancestor of the present Ontario University Athletics.
McGill also entered a team in the Junior Amateur Hockey Association which was the local junior league in Montreal.
During World War I there was no intercollegiate hockey in Canada. In part to replace it, McGill entered a team in the Montreal City Hockey League. It played in this league from 1914-15 through 1920-21, and again in 1923-24. Later on McGill joined the Montreal Senior Group in 1926-27 and continued in this league and its successor, the Quebec Senior Hockey League until 1938-39.
The International Intercollegiate League was organized in 1936 with both Canadian and American universities and continued until 1940.
1903-15 Pre-World War I
Season
Games
Won
Lost
Tied
Points
Goals
for
Goals
against
Standing
Playoffs
1914-15
10
2
8
0
4
-
-
5th
Out of Playoffs
1915-16
10
1
7
2
4
16
39
5th
Out of Playoffs
1916-17
10
6
3
1
13
28
35
2nd
Out of Playoffs
1917-18
10
7
1
2
16
31
12
1st
Won Final
1918-19
9
5
3
1
11
-
-
2nd
Out of Playoffs
1919-20
7
5
2
0
10
-
-
1st
Lost Semi Final
1920-21
7
4
3
0
8
40
26
4th
Won Final
1923-24
7
5
2
0
10
-
-
2nd
no playoffs
1920-36
Season
Games
Won
Lost
Tied
Points
Goals
for
Goals
against
Standing
Playoffs
1919-20
4
3
1
0
8
15
10
1st
Lost Final
1920-21
4
2
2
0
4
28
24
2nd
1921-22
4
2
2
0
4
20
21
2nd
1922-23
6
2
4
0
4
22
29
3rd
1923-24
6
2
3
1
5
18
22
3rd
1924-25
6
1
5
0
2
13
19
4th
1925-26
6
1
5
0
2
-
-
4th
1926-27
6
5
1
0
10
16
10
1st
Lost Final
1927-28
4
2
2
0
4
11
8
2nd
1928-29
2
0
2
0
0
3
9
2nd
Lost Final (only 2 teams)
1929-30
2
1
0
1
3
3
2
1st
Won Final (only 2 teams)
1930-31
2
1
0
1
3
6
14
1st
Won Final (only 2 teams)
1931-32
2
0
1
1
1
3
4
2nd
Lost Final (only 2 teams)
1932-33
4
3
0
1
7
15
6
1st
1933-34
4
1
0
1
3
9
4
1st
Won Final (only 2 teams)
1934-35
4
4
0
0
8
14
4
1st
1935-36
2
2
0
0
4
15
3
1st
Won Final (only 2 teams)
Quebec Senior Hockey
Edit
1927-39 (includes SG, MSG, and QSHL)
Season
Games
Won
Lost
Tied
Points
Goals
for
Goals
against
Standing
Playoffs
1926-27
10
2
8
0
4
20
35
4th
1927-28
9
4
5
0
8
18
26
3rd
1928-29
8
3
4
1
7
11
19
4th
1929-30
10
3
7
0
6
16
25
5th
1930-31
12
6
2
4
16
19
11
2nd
Won Final
1931-32
12
8
1
3
19
30
15
1st
Lost Final
1932-33
12
7
4
1
15
46
27
1st
Lost Final
1933-34
12
10
0
2
32
58
20
1st
Won Final
1934-35
12
7
4
1
30
35
27
2nd
Lost Semi Final
1935-36
14
8
5
1
31
59
29
3rd
Lost Semi Final
1936-37
16
12
2
2
38
99
51
2nd
Lost Semi Final
1937-38
12
4
7
1
18
31
42
7th
1938-39
12
4
6
2
20
-
-
5th
Season
Games
Won
Lost
Tied
Points
Goals
for
Goals
against
Standing
1936-37
10
10
0
0
20
87
16
1st
1937-38
10
9
1
0
18
74
15
1st
1938-39
10
9
1
0
18
76
31
1st
1939-40
8
6
2
0
12
35
22
2nd
Season
Games
Won
Lost
Tied
Points
Goals
for
Goals
against
Standing
1942-43
11
5
6
0
10
-
-
3rd
1943-44
15
3
10
2
8
-
-
4th
1944-45
15
5
9
1
11
65
84
3rd
Season
Games
Won
Lost
Tied
OTL
Points
Goals
for
Goals
against
Standing
1945-46
6
5
1
0
-
45
20
10
2nd CIAU
1946-47
9
6
2
1
-
43
23
13
2nd CIAU
1947-48
12
9
3
0
-
52
37
18
2nd CIAU
1948-49
12
6
6
0
-
70
54
12
3rd CIAU
1949-50
12
3
9
0
-
43
54
6
3rd CIAU
1950-51
10
4
5
1
-
43
57
9
3rd CIAU
1951-52
12
1
10
1
-
28
66
3
4th CIAU
1952-53
12
4
5
3
-
33
38
11
3rd CIAU
1953-54
12
3
9
0
-
42
54
6
4th CIAU
1954-55
12
6
6
0
-
44
50
12
2nd QOAA
1955-56
12
4
8
0
-
58
70
8
3rd QOAA
1956-57
12
7
5
0
-
50
51
14
2nd QOAA
1957-58
12
4
8
0
-
40
52
8
4th QOAA
1958-59
12
0
11
1
-
22
97
1
4th QOAA
1959-60
14
3
9
2
-
41
62
8
4th QOAA
1960-61
12
2
10
0
-
39
70
4
4th QOAA
1961-62
11
6
5
0
-
--
--
12
2nd QOAA-E
1962-63
12
5
6
1
-
53
49
11
3rd QOAA-E
1963-64
12
4
4
4
-
49
38
12
4th QOAA
1964-65
16
3
12
1
-
65
120
7
7th QOAA
1965-66
16
4
11
1
-
56
92
9
8th QOAA
1966-67
16
4
11
1
-
56
101
9
8th QOAA
1967-68
18
2
16
0
-
52
97
4
9th QOAA
1968-69
15
5
9
1
-
49
65
11
4th QOAA-E
1969-70
15
5
7
3
-
56
61
13
5th QOAA-E
1970-71
15
5
8
2
-
65
79
12
5th QOAA-E
1971-72
21
1
20
0
-
--
--
2
8th QUAA
1972-73
24
7
15
2
-
--
--
16
6th QUAA
1973-74
18
6
10
2
-
71
109
14
5th QUAA
1974-75
20
7
11
2
-
81
111
16
4th QUAA
1975-76
20
3
14
3
-
57
124
9
5th QUAA
1976-77
20
3
13
4
-
61
118
10
5th QUAA
1977-78
16
9
5
2
-
73
67
20
3rd QUAA
1978-79
20
9
9
2
-
80
97
20
4th QUAA
1979-80
24
3
21
0
-
60
183
6
7th QUAA
1980-81
24
5
15
4
-
--
--
14
5th QUAA
1981-82
24
9
15
0
-
--
--
18
5th QUAA
1982-83
30
11
19
0
-
146
144
22
5th QUAA
1983-84
24
9
10
5
-
105
116
23
2nd QUAA
1984-85
19
8
10
1
-
80
90
17
4th QUAA
1985-86
20
9
10
1
-
92
125
15
3rd QUAA
1986-87
18
4
12
2
-
80
92
10
3rd QUAA
1987-88
25
13
8
4
-
119
96
30
2nd OUAA-E
1988-89
26
19
4
3
-
173
76
41
2nd OUAA-E
1989-90
22
12
8
2
-
93
71
26
4th OUAA-E
1990-91
22
12
7
3
-
103
84
27
5th OUAA-E
1991-92
22
15
5
2
-
103
68
32
2nd OUAA-E
1992-93
22
11
8
3
-
106
84
25
4th OUAA-E
1993-94
24
13
10
1
-
97
75
27
4th OUAA-FE
1994-95
24
13
10
1
-
111
88
27
2nd OUAA-FE
1995-96
26
15
9
2
-
123
106
32
2nd OUAA-FE
1996-97
26
14
10
2
-
127
93
30
2nd OUAA-FE
1997-98
26
12
10
4
-
85
96
28
3rd OUA-FE
1998-99
26
13
9
4
-
100
89
30
4th OUA-FE
1999-00
26
21
5
0
-
146
75
42
2nd OUA-FE
2000-01
24
10
11
3
-
81
90
23
3rd OUA-FE
2001-02
24
13
9
2
-
80
67
28
3rd OUA-FE
2002-03
24
16
6
2
-
92
62
34
2nd OUA-FE
2003-04
24
9
9
4
2
77
70
24
4th OUA-FE
2004-05
24
17
6
1
0
87
54
35
1st OUA-FE
2005-06
24
20
1
3
0
93
29
43
1st OUA-FE
2006-07
28
15
7
5
1
113
67
36
2nd OUA-FE
2007-08
28
18
9
-
1
102
66
37
2nd OUA-FE
2008-09
28
18
8
-
2
100
76
38
2nd OUA-FE
2009-10
28
22
6
-
0
156
71
44
2nd OUA-E
2010-11
28
24
2
-
2
141
66
50
1st OUA-E
2011-12
28
22
4
-
2
104
62
46
1st OUA-E
2012-13
28
17
7
-
4
89
77
38
3rd OUA-E
2013-14
28
21
5
-
2
127
72
44
3rd OUA-E
2014-15
26
21
5
-
0
102
51
42
1st OUA-E
playoffs
8
4
4
-
-
 ?
 ?
8
fourth
2015-16
28
21
6
-
1
116
75
43
2nd OUA-E
playoffs
4
2
2
-
-
 ?
 ?
4
E semis
2016-17
NHL Alumni
Edit
University Cup
Edit
Championships
Edit
SENIOR
Montreal: 1918, 1921
Quebec: 1931, 1934
UNIVERSITY
CIAU Central: 1903, 1905, 1912, 1930, 1931, 1933, 1934, 1935, 1936
International: 1937, 1938, 1939
Queen's Cup - OUA: 2008, 2010, 2011, 2012
University Cup: 2012