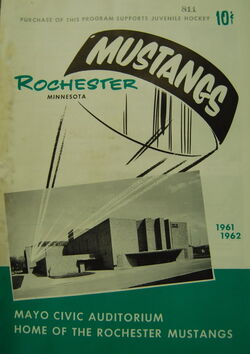 The Mayo Civic Auditorium was an ice hockey arena in Rochester, Minnesota. Although still standing today, it is no longer used as a rink.
It was built in 1938, using money donated by the Doctors Mayo who also built the famous clinic. Although it was not originally built as a hockey arena, an ice rink was installed. The rink was very small.
This was the only indoor artificial ice rink in southern Minnesota until 1968.
The (senior) Rochester Mustangs called this rink home during their existence from 1947 to 1970.
Ad blocker interference detected!
Wikia is a free-to-use site that makes money from advertising. We have a modified experience for viewers using ad blockers

Wikia is not accessible if you've made further modifications. Remove the custom ad blocker rule(s) and the page will load as expected.