The Max Bell Centre (often referred to as the Max Bell Arena) is an ice hockey arena in Calgary, Alberta, Canada in the community of Radisson Heights. It seats 2,121 for hockey with a standing room capacity of over 3,000. It is named after George Maxwell Bell, a philanthropist who helped fund the arena's construction.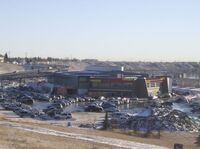 The Max Bell Centre hosted curling and short-track speed skating events at the 1988 Olympics. Presently, the arena is home to the Calgary Canucks of the Alberta Junior Hockey League, and the primary facility for the Northeast Calgary Athletic Association's minor hockey teams. The arena also hosts Rocky Mountain Lacrosse League games.
Every December, the Max Bell Centre serves as the primary venue for the Mac's AAA midget hockey tournament. The Arena is home to the Mac's Tourney's "Wall of Fame" featuring every tournament alumni who has gone on to play in the National Hockey League.
In 2007, the arena completed construction to add a second sheet of ice as the city of Calgary attempts to keep up with demand for ice-time in a rapidly growing city.
Ad blocker interference detected!
Wikia is a free-to-use site that makes money from advertising. We have a modified experience for viewers using ad blockers

Wikia is not accessible if you've made further modifications. Remove the custom ad blocker rule(s) and the page will load as expected.