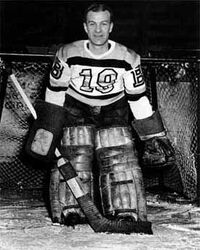 Maurice Courteau (born February 18, 1920 in Quebec City, Quebec) is a former Canadian ice hockey goaltender. He played in the NHL for the Boston Bruins.
He started out in junior with the Noranda Copper Kings fom 1936-38 then went to the Atlantic City Sea Gulls of the Eastern Hockey League for a season. That was followed by three years in Quebec senior hockey.
In 1942-43, while with the Philadelphia Falcons of the Eastern League, Courteau was named to the second all-star team. the following year he was named to the first all-star team with the Boston Olympics of the same league. That earned him a call-up to the Boston Bruins for six games in 1943-44. He was a second team all-star again in 1944-45 with the Olympics.
He played with various senior and minor pro teams until his retirement in 1950.
External links
Edit
Ad blocker interference detected!
Wikia is a free-to-use site that makes money from advertising. We have a modified experience for viewers using ad blockers

Wikia is not accessible if you've made further modifications. Remove the custom ad blocker rule(s) and the page will load as expected.