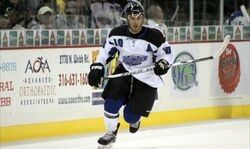 Matt Hubbauer (born December 17, 1982 in Winnipeg, Manitoba) is a Canadian centre with the Wichita Thunder of the Central Hockey League.
He played junior hockey for the Regina Pats from 1998 to 2003. Undrafted by the NHL, Hubbauer spent a year at the University of Manitoba before turning pro with the Atlantic City Boardwalk Bullies in 2003-04.
Hubbauer has played in the minor pros ever since. He played three years in Germany from 2006 to 2009 and one in Great Britain in 2009-10 with the Sheffield Steelers.
He is currently the head coach of the J.H Bruns Broncos high school hockey team in Winnipeg Manitoba.
External links
Edit
Ad blocker interference detected!
Wikia is a free-to-use site that makes money from advertising. We have a modified experience for viewers using ad blockers

Wikia is not accessible if you've made further modifications. Remove the custom ad blocker rule(s) and the page will load as expected.