The Mass-Dartmouth Corsairs are a Men's Division III team in MASCAC.
The team is based out of the Hetland Skating Arena in New Bedford, Massachusetts.  From information on the team's website this appears to be the team's only home during its existence.  The school itself is located in Dartmouth, Massachusetts, which is located between Fall River and New Bedford along the area known as the South Coast in southeastern Massachusetts. where the original two campuses that were merged to create the Dartmouth-based school were located prior to the 1960's.
Program History
Edit
The school was known as Southeastern Massachusetts University until 1991 when the school was renamed and merged into the University of Massachusetts system.
The program was established for the 1974-75 season.  The team's first coach was Joe Prenda who built a 82-64-1 record in 8 seasons.  The team mad its first ECAC tournament appearance in 1981. In 1982 Alex Kogler took over as coach and lead the team to back-to-back ECAC championships before leaving after compiling a 32-12-1 record in two seasons. John Rolli took over as coach in 1984, leading the team to 3 conference championships in his first five seasons and has not looked back. He has built a 570-208-39 record with the team as of the start of the 2015-16 season
The program was part of the ECAC from at least the 1980-81 season until joining the Massachusetts State Collegiate Athletic Conference in 2009.  The program has won 12 ECAC conference tournaments, one MASCAC conference tournament and made NCAA Divsion III tournament appearances in 2006, 2007, 2008, and 2013.
Men's Year by Year Record
Edit
Season
GP
W
L
T
GF
GA
Pts
Finish
Conference Tournament
GP
W
L
T
GF
GA
ECAC Division III
Overall Record
1974-75
1975-76
1976-77
1977-78
1978-79
1979-80
1980-81
1981-82
1982-83
1983-84
1984-85
ECAC North/South
Overall Record
1985-86
1986-87
1987-88
1988-89
1989-90
1990-91
1991-92
ECAC North/South/Central
Overall Record
1992-93
1993-94
1994-95
1995-96
1996-97
1997-98
ECAC Northeast
Overall Record
1998-99
1999-00
2000-01
2001-02
2002-03
2003-04
2004-05
2005-06
2006-07
2007-08
2008-09
Massachusetts State Collegiate Athletic Conference
Overall Record
2009-10
2010-11
2011-12
2012-13
2013-14
2014-15
2015-16
2016-17
18
12
6
0
71
56
24
3rd of 7
L, QF 3-0 (Westfield St)
26
17
9
0
98
85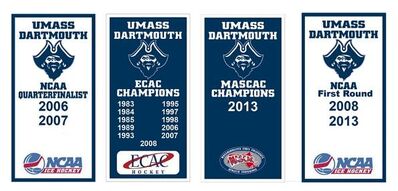 Ad blocker interference detected!
Wikia is a free-to-use site that makes money from advertising. We have a modified experience for viewers using ad blockers

Wikia is not accessible if you've made further modifications. Remove the custom ad blocker rule(s) and the page will load as expected.