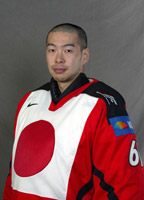 Masahito Haruna (Born Jul 16 1973 in Kushiro, Japan) is a Japanese Goaltender who played for Japan at the 2010 World Championships. He has played for Furakawa, Nikko Ice Bucks, and the Quad City Mallards during his career.
Ad blocker interference detected!
Wikia is a free-to-use site that makes money from advertising. We have a modified experience for viewers using ad blockers

Wikia is not accessible if you've made further modifications. Remove the custom ad blocker rule(s) and the page will load as expected.