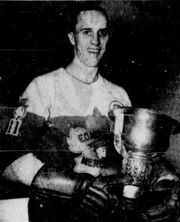 Marsh Darling (born 1919 in Edinburgh, Scotland) was a Canadian right winger. He moved to Canada when he was 4 years old.
He was most famous as the captain of the Edmonton Mercurys when they won the 1950 World Championship for Canada.
He played junior hockey for the Edmonton Athletic Club Roamers from 1937 to 1939 and then joined the senior Olds Elks followed by the Lethbridge Maple Leafs. After that Darling played local hockey in Edmonton during World War II.
He joined the Mercurys in 1947.