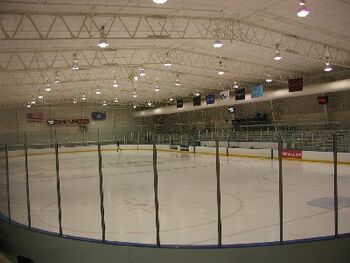 The Mark Edward Freitas Ice Forum is the home rink of the University of Connecticut Huskies. It was re-dedicated on February 5, 2005 during the UConn-Sacred Heart game, which UConn won 5-1.
The building has hosted three conference championships in it's brief history- the 2000 & 2001 Metro Atlantic Athletic Conference Men's Ice Hockey Championships and the 2002 ECAC Women's Ice Hockey Championship.
It was constructed upon the same site of UConn's old outdoor rink that the program used before moving up to Division I. The rink itself is in the exact same spot as at the old rink. It opened in 1998, and up until 2005 was known as the UConn Ice Arena. It seats 2,000 and the rink is 200 feet by 85 feet.
It was the only sports facility built with money from the "UConn 2000" program in which the State of Connecticut pledged $1,000,000,000 in capitol improvements to the university starting in 1995.
Ad blocker interference detected!
Wikia is a free-to-use site that makes money from advertising. We have a modified experience for viewers using ad blockers

Wikia is not accessible if you've made further modifications. Remove the custom ad blocker rule(s) and the page will load as expected.