Maritime-Hockey North Junior C Championship
Talk

0
Share
Ad blocker interference detected!
Wikia is a free-to-use site that makes money from advertising. We have a modified experience for viewers using ad blockers

Wikia is not accessible if you've made further modifications. Remove the custom ad blocker rule(s) and the page will load as expected.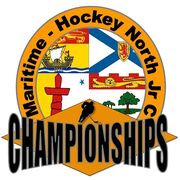 The Maritime-Hockey North Junior C Championship are the Junior "C" ice hockey championships for the Martime Junior "C" leagues and Hockey North's Team Nunavut of the Territory of Nunavut.
Official adapted by Hockey Canada in a summer meeting in 2002.
The first ever Maritime-North Championship was won by the Chebucto Canadians of the Nova Scotia Junior C Hockey League in the Spring of 2003. Chebucto defeated the Dieppe/Memramcook Voyageurs of the New Brunswick Junior C Hockey League 4-3 in triple overtime to seal the deal.
Competing Leagues
Edit
Champions
Edit
Maritime-Hockey North Junior C Champions
Year
Champions
Runners-Up
Host City
2003
Chebucto Canadians
Dieppe/Memramcook Voyageurs
Yarmouth, Nova Scotia
2004
Fredericton Rangers
Barrington Ice Dogs
Fredericton, New Brunswick
2005
Barrington Ice Dogs
Kent-Sud Flames
Tignish, Prince Edward Island
2006
Shediac/Cap-Pele Predators
Barrington Ice Dogs
Lantz, Nova Scotia
2007
Shediac/Cap-Pele Predators
Dieppe/Memramcook Voyageurs
Shediac, New Brunswick
2008
Shediac/Cap-Pele Predators
Harbour Crunch
Cornwall, Prince Edward Island
2009
Barrington Ice Dogs
Clare Lions
Barrington, Nova Scotia
2010
Eastern Shore Jr. Mariners
Shediac/Cap-Pele Predators
Fredericton, New Brunswick
2011
Clare Lions
Eastern Shore Jr. Mariners
Church Point, Nova Scotia
2012
Chester Clippers
Kivalliq Canucks
Tignish, Prince Edward Island
2013
Hampton Hurricanes
Western Valley Panthers
Hampton, New Brunswick
2014
Spryfield Silver & Black Attack
Hampton Hurricanes
Liverpool, Nova Scotia
2015
Baffin Blizzard
Southside Lynx
Sherwood, Prince Edward Island
2016
Western Valley Panthers
Spryfield Attack
Fredericton Junction, New Brunswick
External links
Edit