Ad blocker interference detected!
Wikia is a free-to-use site that makes money from advertising. We have a modified experience for viewers using ad blockers

Wikia is not accessible if you've made further modifications. Remove the custom ad blocker rule(s) and the page will load as expected.
The Marion Hilliard Award is named in honour of former Toronto Lady Blues player Marion Hilliard. She played with the Lady Blues from 1922-27 and was a leading member of 6 championship teams. She was President of the University Hockey Club and was a member of the University of Toronto women's Athletic Directorate for four years. The award is presented to reward excellence among a female ice hockey player from the CIS. The recipient exhibits outstanding achievement in three areas: hockey, academics and community involvement. In 2015, Toronto Varsity Blues player Nicole Kesteris became the first player to win the award in consecutive years.[1]
Award winners
Edit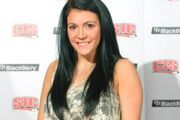 Runners up
Edit
Every conference in the CIS names one player as a nominee for the award and they are considered the winner of the award for their respective conference.
| | | | |
| --- | --- | --- | --- |
| Year | Runner up | Team | Conference |
| 2012 | Kelsey Tulloch | Saskatchewan Huskies | Canada West |
| 2012 | Kristen MacDonald | Carleton Ravens | QSSF |
| 2011 | Autumn Mills[7] | York Lions | OUA |
| 2011 | Erica Skinner | Carleton Ravens | QSSF |
| 2011 | Megan Bach | Lethbridge Pronghorns | Hockey West |
| 2010 | Christine Allen[8] | Ottawa | QSSF |
| 2010 | Veronica Johnston[9] | Western Mustangs | OUA |
| 2010 | Stacy Corfield[10] | Manitoba Bisons | Hockey West |
| 2009 | Kori Cheverie | St. Mary's Huskies | AUS |
| 2008 | Kori Cheverie | St. Mary's Huskies | AUS |
| 2007 | Kori Cheverie | St. Mary's Huskies | AUS |
References
Edit