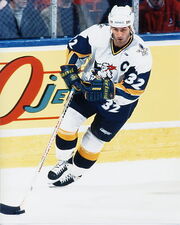 Mario Roberge (born January 23, 1964 in Quebec City, Quebec) is a retired Canadian ice hockey forward.
Roberge started his National Hockey League career with the Montreal Canadiens in 1991. He would play his entire career with Montreal and leave after the 1995 season. He would win one Stanley Cup with Montreal in 1993. Roberge was mostly known for his physical play and his fighting abilities. He earned 314 penalty minutes in 112 NHL games.
Roberge played junior hockey with the Quebec Remparts from 1981 to 1984. Undrafted by any NHL club, he played senior and minor pro hockey until 1988.
In that year the Montreal Canadiens signed him as a free agent. Roberge played for the Sherbrooke Canadiens and then the Fredericton Canadiens through 1991-92. He did see limited action with the Canadiens and missed a lot of time due to injuries. He played 50 games in 1992-93 as the Canadiens won the Stanley Cup.
After that season his ice time was vastly reduced. He ended up in the minors and retired in 1997. The next year he made a comeback in the Quebec Semi Professional Hockey League and played there until 2002.
External links
Edit
Ad blocker interference detected!
Wikia is a free-to-use site that makes money from advertising. We have a modified experience for viewers using ad blockers

Wikia is not accessible if you've made further modifications. Remove the custom ad blocker rule(s) and the page will load as expected.