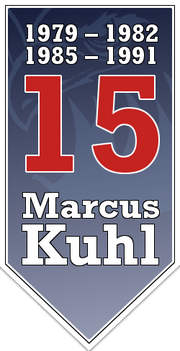 Marcus Kuhl (Born March 15, 1956 in Mannheim, Germany) is a retired German forward who played in the Bundesliga from 1979 to 1993. He played three seasons with Cologne and the rest of the seasons with Mannheim.
Kuhl also represented his country at the 1980 Olympics, 1984 Olympics, and the 1984 Canada Cup as well as numerous World Championships.
His number 15 was retired by Mannheim after his retirement.
He is at present the sports director for Adler Mannheim.
Ad blocker interference detected!
Wikia is a free-to-use site that makes money from advertising. We have a modified experience for viewers using ad blockers

Wikia is not accessible if you've made further modifications. Remove the custom ad blocker rule(s) and the page will load as expected.