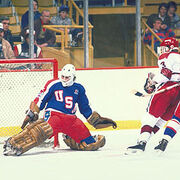 Marc James Behrend (born January 11, 1961 in Madison, Wisconsin) is a retired professional American ice hockey goaltender who played 39 NHL regular season games with the Winnipeg Jets between 1984 and 1986. He was drafted by the Jets with the 85th pick overall in the 1981 NHL Entry Draft.
Before turning professional, Behrend was a member of the University of Wisconsin–Madison men's hockey team that won the NCAA championship in 1981 and 1983. Behrend was named the tournament's Most Outstanding Player on both occasions, becoming only the second player in the history of the tournament to do so. He also played for the United States national hockey team in the 1984 Winter Olympics in Sarajevo before turning professional.
He turned pro after the 1984 Olympics, playing 6 games for the Winnipeg Jets in 1983-84. He split the next two seasons between the Jets and the Sherbrooke Canadiens and then played only for Sherbrooke in 1986-87. That was his last season in hockey.
References
Edit
Ad blocker interference detected!
Wikia is a free-to-use site that makes money from advertising. We have a modified experience for viewers using ad blockers

Wikia is not accessible if you've made further modifications. Remove the custom ad blocker rule(s) and the page will load as expected.