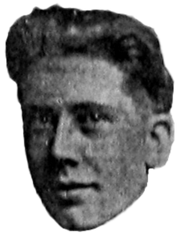 Olympic medal record
Men's ice hockey
Competitor for Canada
Gold
1920 Antwerp
Team competition
Magnus "Mike" Goodman (March 18, 1898 – July 17, 1991) was a Canadian swimmer, speed skater, and ice hockey player who competed in the 1920 Olympics. He was born in Winnipeg, Manitoba.
He was the left wing for the Winnipeg Falcons, the Canadian team which won the gold medal. He died in Miami, Florida.
Awards and achievements
Edit
Allan Cup Championship (1920)
Olympic Gold Metalist (1920)
AHA Championships (1927 & 1934)
"Honoured Member" of the Manitoba Hockey Hall of Fame
]