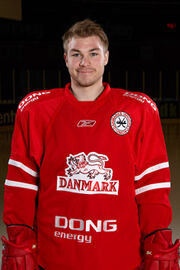 Mads Bødker (born August 31,1987 in Copenhagen, Denmark) is a Danish defenceman who plays for Rögle BK in the Swedish Elitserien.
He played for various Rødovre Mighty Bulls teams in Denmark from 2003 to 2006 and was the AL-Bank Ligaen rookie of the year in 2005-06. In 2006 he switched to Rögle.
Bødker has represented Denmark in the 2004, 2005, 2006, and 2007 World Junior Championships. As well he played for his country in the 2007, 2008, 2009, and the 2010 World Championships.
Ad blocker interference detected!
Wikia is a free-to-use site that makes money from advertising. We have a modified experience for viewers using ad blockers

Wikia is not accessible if you've made further modifications. Remove the custom ad blocker rule(s) and the page will load as expected.