Madison Square Garden
Madison Square Garden III
Full name
Madison Square Garden
Location
New York City, New York
Opened
1925
Closed
1968
Owner
Tex Rickard
Operator
Tex Rickard
Tenants
New York Rangers (NHL) (1926–1968)
New York Knicks (National Basketball Association) (1946–1968)
New York Americans (NHL) (1925-1942)
NCAA Men's Division I Basketball Tournament (1943–1948, 1950)
Capacity
Basketball: 18,496
Ice Hockey: 15,925
Madison Square Garden III was the name of an indoor arena in New York City. Built in 1925 and closing in 1968, the arena hosted the New York Knicks of the National Basketball Association, New York Rangers of the NHL, countless boxing matches, concerts, and many other events. It had a maximum seating capacity of 18,496 spectators. It was eventually replaced by the current Madison Square Garden. It was the first Garden that was not located in Madison Square.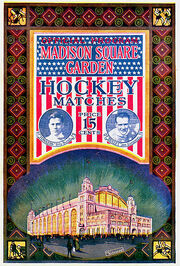 It was built on 50th Street and Eighth Avenue by boxing promoter Tex Rickard and was dubbed "The House That Tex Built." The New York Rangers, owned by Rickard, got their name from a wordplay on his name (Tex's Rangers). It was built in 249 days on the site of the city's streetcar barns. However, the Rangers were not the first NHL team to play at the Garden; the New York Americans had begun play in 1925 and were so wildly successful at the gate that Rickard wanted his own team as well. The Rangers were founded in 1926 and both teams played at the Garden until the Americans folded in 1942, the Rangers having stolen their commercial success with their own success on the ice (winning three Stanley Cups between 1928 and 1940). The Americans suspended operations due to World War II, and Garden management's refusal to allow the resurrection of the team after the war was one of the popular theories underlying the Curse of 1940 that supposedly prevented the Rangers from winning the Stanley Cup again until 1994.
While the Ringling Bros. and Barnum & Bailey Circus had debuted at the Garden in 1919, the third Garden saw large numbers of performances. The circus was so important to the Garden that when the Rangers played in the 1928 Stanley Cup Finals, the team was forced to play all games on the road (the Rangers won the series anyway). The circus would continue to perform as often as three times daily, repeatedly knocking the Rangers out of the Garden at playoff time, throughout the life of the third Garden. Even at the fourth Garden, games would have to begin as late as 9:00 p.m. to accommodate the circus.
External links
Edit
}}