Ad blocker interference detected!
Wikia is a free-to-use site that makes money from advertising. We have a modified experience for viewers using ad blockers

Wikia is not accessible if you've made further modifications. Remove the custom ad blocker rule(s) and the page will load as expected.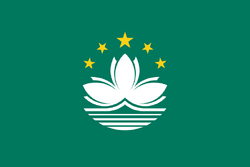 Macau is a special administrative region of China. It has a population of just over 500,000.
It is autonomous, much like Hong Kong.
Macau

Info

Rinks

Players

Referees

Population

542,200

Indoor

0

Total

67

Male

--

Capital

Outdoor

0

Male

25

Female

--

IIHF Since

May 12 2005

Junior

9

Female

33
The Macau national ice hockey team is the ice hockey team that represents Macau, China in international tournaments and is a member of the International Ice Hockey Federation.

Macau has not participated in any IIHF international tournaments and there is no ice hockey league there .Here are the statistics for the Macau National Team
National Team
Edit