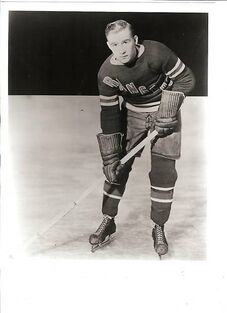 Matthew Lamont "Mac" Colville (January 8, 1916 – May 27, 2003) was a professional ice hockey right winger. A native of Edmonton, Alberta, he was brother of Hall of Fame hockey player Neil Colville.
He served as the coach of the New Haven Ramblers in 1948-49 and 1949-50.
Career statistics
Edit
Honors and awards
Edit
EAHL First All-Star Team, 1935
Won the Stanley Cup in 1940 with the New York Rangers.
Ranked No. 55 on the all-time list of New York Rangers in the book 100 Ranger Greats (John Wiley & Sons, 2009).
External links
Edit
Ad blocker interference detected!
Wikia is a free-to-use site that makes money from advertising. We have a modified experience for viewers using ad blockers

Wikia is not accessible if you've made further modifications. Remove the custom ad blocker rule(s) and the page will load as expected.